26.11.2018 | Research Article | Ausgabe 2/2018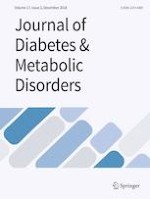 The interaction of dyslipidaemia with glycaemia in an adult population study
Zeitschrift:
Autoren:

Sarah Cuschieri, Josanne Vassallo, Neville Calleja, Christopher Barbara, Julian Mamo
Abstract
Purpose
Individuals with dysglycaemic are prone to dyslipidaemia. Understanding the dyslipidaemic status of dysglycaemic individuals is essential for monitoring and early prevention. The aim was to assess the control of lipidaemia by glycaemic status in a representative adult population.
Methods
A retrospective health examination survey was performed on a sample of adults (
n
 = 3947) in Malta in 2014–6. Sociodemographic data, biochemistry blood tests and anthropometric measurements were gathered. Statistical analysis was performed to evaluate the lipidaemic status and its control across the glycaemic spectrum (normoglycemic, impaired fasting glucose individuals, new diabetics and known diabetics).
Results
The prevalence of
uncontrolled dyslipidaemi
a was 7.75% (CI 95%: 6.69–8.63), among whom 6.97% (CI 95%: 6.21–7.81) were naïve dyslipidaemic. A progressive elevation in both LDL-C and total cholesterol but not triglycerides was present among
uncontrolled dyslipidaemi
a individuals across the glycaemic spectrum.
Global dyslipidaemia
was present in 19.26% (CI 95%: 18.05–20.52) of the total general population and in 46.59% (CI 95%: 40.49–52.69%) of known diabetics. Most individuals irrespective of lipid status were normoglycaemic.
Conclusions
Dyslipidaemia occurs in the presence of insulin resistance. Dyslipidaemia predominated in the normoglycaemic state irrespective of statins use, indicating the need to manage dyslipidaemia prior to dysglycaemia.