01.12.2018 | Research article | Ausgabe 1/2018 Open Access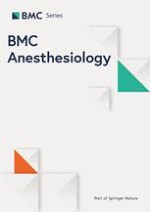 The interplay of BDNF-TrkB with NMDA receptor in propofol-induced cognition dysfunction
Mechanism for the effects of propofol on cognitive function
Zeitschrift:
Autoren:

Junfei Zhou, Fang Wang, Jun Zhang, Jianfeng Li, Li Ma, Tieli Dong, Zhigang Zhuang
Abstract
Background
The aim of the present study was to verify whether propofol impaired learning and memory through the interplay of N-methyl-D-aspartate (NMDA) receptor with brain-derived neurotrophic factor (BDNF)-tyrosine kinase B (TrkB) signaling pathway.
Methods
120 Sprague-Dawley (SD) rats were randomly assigned into eight groups. Experimental drugs including saline, intralipid, propofol, N-methyl-D-aspartate (NMDA), 7,8-dihydroxyflavone (7,8-DHF), K252a and MK-801. Spatial learning and memory of rats were tested by the Morris water maze (MWM) test. The mRNA and protein expression were determined by immunohistochemistry, RT-PCR and western blot. Finally, hippocampus cells proliferation and apoptosis were examined by PCNA immunohistochemistry and TUNEL respectively.
Results
The memory and learning was diminished in the propofol exposure group, however, the impaired memory and learning of rats were improved with the addition of NMDA and 7,8-DHF, while the improvement of memory and learning of rats were reversed with the addition of K252a and MK-801. In addition, the mRNA and protein expression levels and hippocampus cells proliferation were the same trend with the results of the MWM test, while apoptosis in hippocampus was reversed.
Conclusion
The propofol can impair memory and learning of rats and induce cognition dysfunction through the interplay of NMDA receptor and BDNF-TrkB-CREB signaling pathway.