01.12.2014 | Diabetes and Obesity (MR Carnethon, Section Editor) | Ausgabe 4/2014 Open Access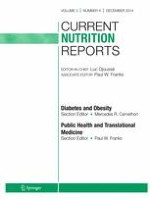 The Intersection between Food Insecurity and Diabetes: A Review
Zeitschrift:
Autoren:

Enza Gucciardi, Mandana Vahabi, Nicole Norris, John Paul Del Monte, Cecile Farnum
Introduction
Food is a fundamental human need, and limited access to it is considered a violation of human rights [
1
]. Food security is an important social determinant of health [
2
] and ample evidence supports a direct relationship between food security and physical, mental, and social health [
3
–
10
]. The 1996 World Food Summit defined food security as everyone, at all times, having physical and economic access to sufficient, safe, nutritious food that meets their dietary needs for an active and healthy life [
11
]. The Summit has since added new components to this definition, such as food preferences, shifting food security away from simple access to calories and nutrition and toward access to food that is also socially and culturally acceptable. Within the context of diabetes, access to sufficient quantities of food does not necessarily guarantee food security if food quality and preferences are ignored.
Food insecurity is an international public health issue, particularly for vulnerable populations, such as female-lone-parent households and individuals who are elderly, recent immigrants, health-impaired, and/or low-income [
12
]. These food-insecure populations are at risk for less diverse, lower quality diets, reduced micronutrient intake, iron-deficiency anemia, and low intake of fruits and vegetables [
7
,
13
–
16
]. Limited budgets among food-insecure people lead to purchasing cheaper, higher-calorie foods, which can contribute to weight gain and an increased susceptibility to one or more chronic illnesses, including type 2 diabetes [
5
,
6
,
17
–
20
]. Access to nutritious food not only affects people's health, but also their ability to manage health conditions, particularly those with specific dietary regimens, [
4
,
6
,
8
,
21
•] such as diabetes. When people find it difficult to access sufficient food, tailoring their food selection to diabetes regimens is even more difficult [
6
].
Objective
This article synthesizes the current literature on food insecurity and diabetes self-management. This synthesis is important, because nutritional self-care is the cornerstone of diabetes management and is critical to preventing diabetes-related complications. Healthcare providers and public health policymakers need to be aware of how food insecurity and diabetes intersect, with the goal of increasing accessibility of healthy foods to prevent diabetes and better manage the condition.
Methods
Search Strategy
We searched Medline, CINAHL, the Cochrane Database of Systematic Reviews, Web of Science, and PsychInfo using some or all of the following keywords:
diabetes
,
diabetes mellitus, dietary intake, food access, food deserts, food insecurity, food intake, food preferences, food security, food supply, self-care, self-efficacy, self-management.
English-language articles published before May 2014 were reviewed if they (a) explored or measured food security, food augmentation strategies, food preferences, food access, and/or dietary intake; and (b) targeted a diabetic population. Of the 539 articles initially found, 16 articles met the inclusion criteria. Another 23 articles were identified by hand-searching the references of these 16 articles, for a total of 39 articles reviewed.
Review Methods
Problems with Data on Food Insecurity
No global consensus has been reached on how to define or measure food insecurity. Quantitative data come primarily from telephone surveys, some more standardized than others, such as the US Department of Agriculture Household Food Security Survey Module (USDA HFSSM) [
22
,
23
]. Qualitative data from interviews help clarify personal experiences of food insecurity. Most of the articles reviewed used the USDA HFSSM or a slightly modified version of it [
6
,
21
•,
24
,
26
,
27
••,
28
,
29
•,
30
,
31
••,
32
,
33
•,
34
–
36
], and only a few studies had developed their own questionnaires [
37
•,
38
]. The authors of one article used the Household Food Insecurity Access Scale (HFIAS), a measure of food accessibility developed by the US Agency for International Development and validated for use in developing countries [
39
•]. However, scholars have identified the need to develop culturally relevant, globally appropriate measures that take into account typical local foods, as well as meal sizes and frequency [
40
]. Of the reviewed articles, four used qualitative methods, 26 used quantitative methods, and three used mixed methods. Regardless of the approach, all research is limited by the respondents' understanding of key terms such as food insecurity. Even when participants are provided with a definition, their own perceptions of this term, imbued with their own experiences of food insecurity and the shame of being unable to support themselves or their families, can influence their responses. Thus, surveys may underestimate food insecurity among vulnerable populations. Similarly, large national surveys based on self-reporting may underestimate the prevalence of diabetes in food-insecure households [
35
]. National surveys often exclude or underrepresent populations at greater risk for food insecurity or diabetes (i.e., Aboriginal peoples on reserves, homeless persons) [
6
,
24
,
32
]. Together, these factors may underestimate diabetes and food insecurity and limit examinations of how these interact.
Findings
Medications and Reducing Hypoglycemic Episodes
Healthcare providers can suggest that patients treat days when they have poor access to food as a 'sick or fasting day,' and take less medication that could cause hypoglycemia if their food intake will be low [
37
•]. Additionally, treatment regimens should include medications that involve less risk of hypoglycemia when food access is unpredictable [
57
]. For example, Metformin and DPP-4 inhibitors involve a very low risk of hypoglycemia when used alone [
68
]. For patients requiring insulin, regimens that allow for as much flexibility (such as multiple daily injections with basal and bolus insulin) can allow patients to omit doses if meals are missed, reducing the risk of hypoglycemia [
69
]. Glycemic targets may also need to be adjusted upward to mitigate the elevated risk of hypoglycemia associated with food insecurity [
28
]. When prescribing oral antihyperglycemic agents or insulin, healthcare providers should consider drug formulary coverage, the type of drug coverage the patient has, and the cost of medications, with an emphasis on patient safety and reduced hypoglycemia risk [
57
]. In some cases, certain medications can be obtained through compassionate or assistance programs [
57
].
Diabetes Self-management Education
Diabetes self-management support can effectively improve self-care behaviors and glycemic control among food-insecure individuals. One study found that after self-management education targeting food-insecure and food-secure individuals with diabetes, the A1C and self-efficacy levels of the food-insecure individuals improved significantly more over time than those of food-secure individuals [
27
••]. These findings suggest that food-insecure participants benefitted from diabetes education that focused on self-management strategies (including dietary changes), even though the intervention did not specifically address low-budget strategies. Lacking nutrition knowledge has been associated with an increased likelihood of mild, but not severe, household food insecurity [
21
•]. This result suggests that, although some nutritional knowledge may protect against milder forms of food insecurity, barriers faced by people with more severe food insecurity cannot be addressed with nutrition knowledge alone. Self-management education programs should include a component that focuses on strategies for coping with food insecurity.
Policy Recommendations
Poverty is at the root of food insecurity, but policies to address poverty are challenging to develop and implement because it intersects with other social determinants of health, such as employment, education, and housing. Nonetheless, it is important to recognize the challenges that low-income individuals and families face in managing chronic conditions. In addition to focusing on diabetes prevention and management [
24
], policymakers need to focus on reducing food insecurity. Social policies aimed at expanding access to employment, housing, and food for people living in poverty may improve the ability of low-income people with diabetes to manage their disease and maintain their overall health [
25
].
Increased access to food and use of food and nutrition assistance programs can reduce food insecurity. Programs can reduce the financial burden of healthy food by offering vouchers for fresh fruits and vegetables, subsidizing fresh fruits and vegetables so they are cheaper than high energy-density carbohydrate-laden food, and delivering affordable fresh fruits and vegetables to low-income areas, particularly to home-bound recipients [
35
]. Such programs should collaborate with neighborhood community organizations and food retailers to improve the availability of healthy food; for example, by providing financial incentives to stores in low-income neighborhoods to stock healthy low-cost foods or to grocery chains to open stores in 'food deserts'. Additionally, fruit and vegetable trucks, stands, or farmers markets could help distribute fresh produce more easily, and community gardens can allow residents to grow their own vegetables and fruit [
66
].
Policies that improve access to affordable or subsidized diabetic supplies for those who cannot afford them can also minimize the effects of food insecurity on diabetes self-management [
32
]. Ultimately, however, innovative programs to promote and support economic self-sufficiency for individuals, families, and households are the best way to reduce food insecurity [
34
,
70
].
Recommendations for Future Research
This literature review identified various avenues for future research to better understand and mitigate the challenges faced by food-insecure individuals with diabetes. First, more research is needed to clarify how these individuals make challenging decisions and compromises regarding food purchases and medical supplies, particularly during periods of monthly income scarcity [
30
]. Second, more longitudinal, prospective, population-based studies with large samples are needed to clarify how food insecurity affects diabetic individuals, particularly with regard to glycemic control and long-term complications and health outcomes [
31
••]. Third, researchers need to focus on effective strategies for counselling low-income diabetes patients to help them achieve healthier diets [
24
,
51
]. Fourth, healthcare providers should investigate their role in monitoring and addressing household food insecurity among clients for whom better nutrition is a key component of disease management. Fifth, more systematic ways are needed to measure food insecurity among individuals accessing the healthcare system for treatment of chronic diseases, and thereby evaluate how best to meet their needs and improve their health outcomes [
33
•].
Conclusions
For those living with diabetes, food insecurity can add to the negative effects of diminished health and social wellbeing. The available literature strongly suggests that multi-factorial approaches at both the community and system levels are needed to mitigate the effects of food insecurity, including its effects on diabetes management. Screening for food insecurity in healthcare settings is one important step toward devising realistic, personalized diabetes management interventions. Policies targeted at improving the financial power of people with diabetes to access sufficient, safe, nutritious, and culturally acceptable foods are imperative.
Acknowledgments
The authors would like to acknowledge Sandra Fitzpatrick, Margaret Oldfield, and Linn Clark for their review and constructive feedback of the manuscript.
Compliance with Ethics Guidelines
ᅟ
Conflict of Interest
Enza Gucciardi, Mandana Vahabi, Nicole Norris, John Paul Del Monte, Cecile Farnum and declare that they have no conflict of interest
Human and Animal Rights and Informed Consent
This article does not contain any studies with human or animal subjects performed by any of the authors.
Open Access
This article is distributed under the terms of the Creative Commons Attribution License which permits any use, distribution, and reproduction in any medium, provided the original author(s) and the source are credited.