01.12.2017 | Research | Ausgabe 1/2017 Open Access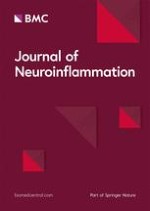 The involvement of mast cells in the irinotecan-induced enteric neurons loss and reactive gliosis
Zeitschrift:
Autoren:

Ludmila T. Nogueira, Deiziane V. S. Costa, Antoniella S. Gomes, Conceição S. Martins, Angeline M. H. P. Silva, Juliana M. Coelho-Aguiar, Patrícia Castelucci, Roberto C. P. Lima-Júnior, Renata F. C. Leitão, Vivaldo Moura-Neto, Gerly A. C. Brito
Wichtige Hinweise
Electronic supplementary material
The online version of this article (doi:
10.​1186/​s12974-017-0854-1
) contains supplementary material, which is available to authorized users.
Abstract
Background
The irinotecan (CPT-11) causes intestinal mucositis and diarrhea that may be related to changes in the enteric nervous system (ENS). In inflammatory condition, mast cells release a variety of pro-inflammatory mediators that can interact with the ENS cells. It has not been explored whether CPT-11 is able to alter the enteric glial and neuronal cell, and the role of mast cells in this effect. Therefore, this study was conducted to investigate the effect of CPT-11 on the enteric glial and neuronal cells, as well as to study the role of mast cells in the CPT-11-induced intestinal mucositis.
Methods
Intestinal mucositis was induced in Swiss mice by the injection of CPT-11 (60 mg/kg, i.p.) once a day for 4 days following by euthanasia on the fifth day. To investigate the role of mast cells, the mice were pretreated with compound 48/80 for 4 days (first day, 0.6 mg/kg; second day, 1.0 mg/kg; third day, 1.2 mg/kg; fourth day, 2.4 mg/kg) to induce mast cell degranulation before the CPT-11 treatment.
Results
Here, we show that CPT-11 increased glial fibrillary acidic protein (GFAP) and S100β gene and S100β protein expressions and decreased HuC/D protein expression in the small intestine segments. Concomitantly, CPT-11 enhanced tumor necrosis factor-α (TNF-α) and interleukin-6 (IL-6) levels and inducible nitric oxide synthase (iNOS) gene expression, associated with an increase in the total number macrophages (positive cells for ionized calcium-binding adapter molecule, Iba-1) and degranulated mast cells in the small intestine segments and caused significant weight loss. The pretreatment with compound 48/80, an inductor of mast cells degranulation, significantly prevented these CPT-11-induced effects.
Conclusions
Our data suggests the participation of mast cells on the CPT-11-induced intestinal mucositis, macrophages activation, enteric reactive gliosis, and neuron loss.