01.12.2012 | Research | Ausgabe 1/2012 Open Access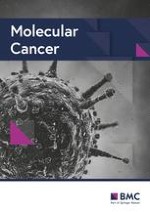 The isoflavone metabolite 6-methoxyequol inhibits angiogenesis and suppresses tumor growth
Zeitschrift:
Autoren:

Sofia Bellou, Evdoxia Karali, Eleni Bagli, Nawaf Al-Maharik, Lucia Morbidelli, Marina Ziche, Herman Adlercreutz, Carol Murphy, Theodore Fotsis
Wichtige Hinweise
Electronic supplementary material
The online version of this article (doi:
10.​1186/​1476-4598-11-35
) contains supplementary material, which is available to authorized users.
Competing interests
The authors declare that they have no competing interests.
Abstract
Background
Increased consumption of plant-based diets has been linked to the presence of certain phytochemicals, including polyphenols such as flavonoids. Several of these compounds exert their protective effect via inhibition of tumor angiogenesis. Identification of additional phytochemicals with potential antiangiogenic activity is important not only for understanding the mechanism of the preventive effect, but also for developing novel therapeutic interventions.
Results
In an attempt to identify phytochemicals contributing to the well-documented preventive effect of plant-based diets on cancer incidence and mortality, we have screened a set of hitherto untested phytoestrogen metabolites concerning their anti-angiogenic effect, using endothelial cell proliferation as an end point. Here, we show that a novel phytoestrogen, 6-methoxyequol (6-ME), inhibited VEGF-induced proliferation of human umbilical vein endothelial cells (HUVE) cells, whereas VEGF-induced migration and survival of HUVE cells remained unaffected. In addition, 6-ME inhibited FGF-2-induced proliferation of bovine brain capillary endothelial (BBCE) cells. In line with its role in cell proliferation, 6-ME inhibited VEGF-induced phosphorylation of ERK1/2 MAPK, the key cascade responsible for VEGF-induced proliferation of endothelial cells. In this context, 6-ME inhibited in a dose dependent manner the phosphorylation of MEK1/2, the only known upstream activator of ERK1/2. 6-ME did not alter VEGF-induced phosphorylation of p38 MAPK or AKT, compatible with the lack of effect on VEGF-induced migration and survival of endothelial cells. Peri-tumor injection of 6-ME in A-431 xenograft tumors resulted in reduced tumor growth with suppressed neovasularization compared to vehicle controls (P < 0.01).
Conclusions
6-ME inhibits VEGF- and FGF2-induced proliferation of ECs by targeting the phosphorylation of MEK1/2 and it downstream substrate ERK1/2, both key components of the mitogenic MAPK pathway. Injection of 6-ME in mouse A-431 xenograft tumors results to tumors with decreased neovascularization and reduced tumor volume suggesting that 6-ME may be developed to a novel anti-angiogenic agent in cancer treatment.