13.10.2018 | KNEE | Ausgabe 2/2019 Open Access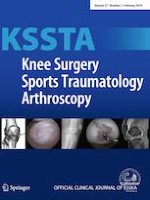 The lateral femoral notch sign: a reliable diagnostic measurement in acute anterior cruciate ligament injury
Zeitschrift:
Autoren:

Prabath C. A. M. Lodewijks, Diyar Delawi, Thomas L. Bollen, Gawein R. Dijkhuis, Nienke Wolterbeek, Jacco A. C. Zijl
Abstract
Purpose
To describe the validity and inter- and intra-observer reliability of the lateral femoral notch sign (LFNS) as measured on conventional radiographs for diagnosing acute anterior cruciate ligament (ACL) injury.
Methods
Patients (≤ 45 years) with a traumatic knee injury who underwent knee arthroscopy and had preoperative radiographs were retrospectively screened for this case–control study. Included patients were assigned to the ACL injury group (
n
 = 65) or the control group (
n
 = 53) based on the arthroscopic findings. All radiographs were evaluated for the presence, depth and location of the LFNS by four physicians who were blind to the conditions. To calculate intra-observer reliability, each observer re-assessed 25% of the radiographs at a 4-week interval.
Results
The depth of the LFNS was significantly greater in ACL-injured patients than in controls [median 0.8 mm (0–3.1 mm) versus 0.0 mm (0–1.4 mm), respectively;
p
 = 0.008]. The inter- and intra-observer reliabilities of the LFNS depth were 0.93 and 0.96, respectively. Secondary knee pathology (i.e., lateral meniscal injury) in ACL-injured patients was correlated with a deeper LFNS [median 1.1 mm (0–2.6 mm) versus 0.6 mm (0–3.1 mm),
p
 = 0.012]. Using a cut-off value of 1 mm for the LFNS depth, a positive predictive value of 96% was found.
Conclusion
This was the first study to investigate the inter- and intra-observer agreement of the depth and location of the LFNS. The depth of the LFNS had a very high predictive value for ACL-injured patients and could be used in the emergency department without any additional cost. A depth of > 1.0 mm was a good predictor for ACL injury. Measuring the depth of the LFNS is a simple and clinically relevant tool for diagnosing ACL injury in the acute setting and should be used by clinicians in patients with acute knee trauma.
Level of evidence
Diagnostic study, level II.