01.12.2017 | Research | Ausgabe 1/2017 Open Access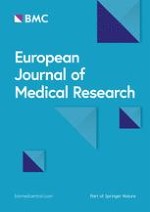 The level of free circulating mitochondrial DNA in blood as predictor of death in case of acute coronary syndrome
Zeitschrift:
Autoren:

Nikolay P. Sudakov, Konstantin A. Apartsin, Svetlana A. Lepekhova, Sergey B. Nikiforov, Alexander I. Katyshev, Galina I. Lifshits, Anna V. Vybivantseva, Yuri M. Konstantinov
Abbreviations
CSI
coronary stent implantation
DAMPs
danger-associated molecular patterns
PCI
percutaneous coronary intervention
Background
The development of technologies for predicting acute myocardial ischemic damages helps to increase the efficacy of treatment to a great extent. Currently, the so-called danger-associated molecular patterns (DAMPs) are considered to be predictors of adverse clinical outcomes and deaths from various diseases. DAMPs include nuclear and cytoplasmic macromolecules activating the components of the innate immune system after having been released from injured tissues [
1
]. One of the little-studied but promising DAMPs reflecting intense cytolytic processes is free circulating mitochondrial DNA (mtDNA). Today, the level of blood mtDNA is used to forecast complications and morbidity for malignant neoplasms and septic processes, and to assess the probability of death in emergency patients [
2
–
4
]. However, the dynamics of concentration of free circulating blood mtDNA in acute myocardial ischemic damages has not been explored yet. Therefore, it seems vital to examine the possibility of using this parameter as a biomarker of damaged cardiac muscle cells in comprehensive diagnosis of myocardial infarction. It was already explored the dynamics of the level of free circulating blood plasma mtDNA in acute myocardial ischemia and observed the increase in blood plasma mtDNA concentration [
5
–
7
]. Recently, we found the raise of concentration of free circulating mitochondrial DNA in blood after injection of adrenaline that caused the development of multiple small focal myocardial ischemia in Wistar rats [
8
,
9
]. Recent observations [
10
] reveal the molecular mechanism behind the development of acute heart failure in animal models, where mitochondrial DNA is an important pathogenic factor. At high level of mtDNA in blood, it can cause inflammation and disorder of heart function [
10
]. The aim of this paper was to explore whether it would be possible to consider the content of free circulating mitochondrial DNA as a danger-associated molecular pattern for assessing the probability of death under acute coronary syndrome.
Methods
Design of the study
We included, in the study, the results of medical examination (non-interventional trial) of the patients who signed informed consents for processing their data in the course of the Personalized the Rapy with clOpidogrel during coronary sTent implantation for acute coronary syndrOme taking into aCcount genetic pOLymorphism (PROTOCOL) prospective multicenter observational study. (Organization conducting the study: Institute of Chemical Biology and Fundamental Medicine, SB RAS; Collaborators: Department of Medicobiological Studies and Technologies, Irkutsk Scientific Center, SB RAS, and Irkutsk Scientific Center of Surgery and Traumatology; Protocol Authors: Prof. K. A. Apartsin, Prof. G. I. Lifshitz, and N. Yu. Knauer; Study Director: Prof. G. I. Lifshitz, Doctor of Medicine, Head of the Laboratory of Personalized Medicine, Institute of Chemical Biology and Fundamental Medicine, SB RAS) [
11
]. This non-interventional trial was approved by the Irkutsk Scientific Center of Surgery and Traumatology ethics committee (protocol No. 3, 10.08.2015).
Emergency patients were admitted to the Irkutsk State Regional Hospital for percutaneous coronary intervention (PCI) by coronary stenting implantation (CSI) on account of in acute coronary syndrome (ACS). They were administered with load clopidogrel dose about 2 h before PCI, and afterwards, with daily maintenance dose of clopidogrel during 30 days after CSI. Three medical examinations (standard CSI trials) were conducted (48 ± 6 h after CSI; at the day of discharge from the hospital; and 30 ± 3 days after CSI) to assess the efficacy and safety endpoints [
12
]. According to the criteria of Academic Research Consortium, definite or probable stent thrombosis was registered as efficacy endpoint [
13
]. Heavy and medium clinically significant bleeding was regarded as safety endpoint. At stages 1‒3, the data were collected during medical examinations; at stage 4, as telephone survey.
Criteria for being included in the research
1.
ACS diagnosis requiring urgent hospitalization and CSI;
2.
Patient's informed consent to participate in the observational study.
Criteria for non-inclusion
1.
Recent administration of clopidogrel and/or anticoagulants (during the last 14 days);
2.
Thrombolytic therapy at the pre-hospital stage;
3.
Active (clinically significant) bleeding at the time of screening during the first examination (stage 1);
4.
Clopidogrel intolerance in past medical history;
5.
PCI without CSI (e.g., diagnostic procedure or balloon angioplasty);
6.
Refusal of the patient (or of his legal representative in case if the patient cannot express his will) to participate in the study at any stage;
7.
Incapability of the patient, according to the researcher, to interact (participate in the survey) during stage 4 held as telephone survey.
Clinical outcomes were analyzed based on discharge summaries and autopsy reports. In accordance with clinical judgment, two outcomes were distinguished: favorable progression after CSI (alleviation of pain syndrome, general recovery, and absence of signs of stent thrombosis), and unfavorable progression (death after CSI from heart failure, clinical symptoms of stent thrombosis, and progressive functional disorders). Blinding assessment of the course after CSI was conducted by an experienced cardiologist based on the data provided. We analyzed 14 enumerated test tubes and selected blood plasma samples of patients with favorable and unfavorable progressions after CSI. Appraisal sheets with clinical laboratory data of the patients and integral assessment (favorable or unfavorable progression after CSI) marked in accordance with the numbers on test tubes were sent for unblinding procedure conducted by an analyst evaluating the level of mitochondrial DNA. The unblinding procedure was carried out after the analysis of the level of freely circulating mitochondrial DNA had been done.
Analysis of the level of free circulating blood mtDNA
At stage 1, blood samples used for evaluating the concentration of mitochondrial DNA were collected not later than after 2 h upon the administration of the load clopidogrel dose; at stage 2, not later than after 48 ± 6 h after CSI. To analyze mitochondrial DNA, we collected platelet-poor plasma obtained by centrifugation of patient's blood at 3000 rpm during 15 min. Isolation of total DNA from blood plasma was performed with PROBA-NK reagent kit (DNA-Technology, Russia) according to the manufacturer's instruction. The quantitative analysis of mtDNA was conducted using PCR method in situ with the reaction mixture containing SYBR Green (Maxima
TM
SYBR Green/ROX qPCR Master Mix–Thermo Fisher Scientific Inc., USA). The amplification of 16S rRNA gene fragment (length 230 base pairs) was performed (forward primer: 5′-CAGCCGCTATTAAAGGTTCG-3′; reverse primer: 5′-GGGCTCTGCCATCTTAACAA-3′) [
2
]. To draw a calibration straight line (Fig.
1
), a set of samples with the precisely known concentration (10, 1000, and 1,000,000 copies/ml) of the above stated gene (length 490 base pairs) containing the analyzed sequence with the length of 230 base pairs was used (forward primer: 5′-GGGATAACAGCGCAATCCTA-3′; reverse primer: 5′-ACGTTGGGGCCTTTGCGTAG-3). Oligonucleotide synthesis was carried out by Syntol OOO (LLC) (Moscow, Russia). The DT lite amplifier (DNA-Technology, Russia) was used to perform PCR in situ.
×
Experimental statistics
The results of the quantitative assessment were presented as a median (25–75 percentiles). We applied non-parametric statistical methods and conducted exploratory data analysis using Spearman's rank correlation coefficient. Based on this analysis, we built a logistic regression model of death probability depending on mtDNA level in blood plasma. To calculate the statistical significance of differences in mtDNA level in survivors and deceased patients, the Mann–Whitney test criterion was used.
Results and discussion
Conclusions
As a whole, the data obtained in the course of the PROTOCOL clinical study prove that increase in the content of freely circulating blood mtDNA up to a certain level is a clear predictor of lethal outcome in patients with ACS. This will help to forecast and influence the clinical course of myocardial infarction.
Authors' contributions
NPS, KAA, SAL, SBN, GIL, and YMK conceived, designed, and coordinated the study. NPS, KAA, SAL, and YMK drafted the manuscript. AVV was involved in the collection of blood samples and clinical data. NPS and AIK carried out the real time PCR. All authors read and approved the final manuscript.
Acknowledgements
The authors are grateful to the principal investigator Saraeva N.O., D.Sc., Prof., medical officer-in-charge of Irkutsk Regional Hospital for excellent assistance.
Competing interests
The authors declare that they have no competing interests.
Compliance with ethical guidelines
This study (non-interventional trial) was approved by the Irkutsk Scientific Center of Surgery and Traumatology ethics committee (protocol No. 3, 10.08.2015).
Funding
This study was supported by the Integration Program of Irkutsk Scientific Center, Siberian Branch of the Russian Academy of Sciences "Fundamental studies and breakthrough technologies as a basis for outpacing development of Baikal region and it's Interregional linkages" (project No. 0341-2015-0001).
Open Access
This article is distributed under the terms of the Creative Commons Attribution 4.0 International License (
http://​creativecommons.​org/​licenses/​by/​4.​0/​
), which permits unrestricted use, distribution, and reproduction in any medium, provided you give appropriate credit to the original author(s) and the source, provide a link to the Creative Commons license, and indicate if changes were made. The Creative Commons Public Domain Dedication waiver (
http://​creativecommons.​org/​publicdomain/​zero/​1.​0/​
) applies to the data made available in this article, unless otherwise stated.