01.03.2012 | Ausgabe 3/2012 Open Access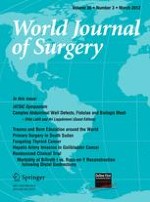 The Life of John Wishart (1850–1926): Study of an Academic Surgical Career Prior to the Flexner Report
Zeitschrift:
Autoren:

Emily Claydon, Vivian C. McAlister
Abstract
Background
The 1910 Flexner
Report on Medical Education in the United States and Canada
is often taken as the point when medical schools in North America took on their modern form. However, many fundamental advances in surgery, such as anesthesia and asepsis, predated the report by decades. To understand the contribution of educators in this earlier period, we investigated the forgotten career of John Wishart, founding Professor of Surgery at Western University, London Ontario.
Methods
Archives at the University of Western Ontario, University of Toronto, London City Library, and Wellington County Museum were searched for material about Wishart and his times.
Results
A fragmented biography can be assembled from family notes and obituaries with the help of contemporary documents compiled by early 20th century medical school historians. Wishart assisted Abraham Groves in the first reported operation for which aseptic technique was used (1874). He was considered locally to perform pioneering surgery, including an appendectomy in 1886. Wishart was a founding member of the medical faculty at Western University in 1881, initially as Demonstrator of Anatomy and subsequently as its first Professor of Clinical Surgery, which post he held until 1910. Comprehensive notes from his undergraduate lectures demonstrate his teaching style, which mixed organized didacticism with practical advice. The role of the Flexner review in the termination of his professorship is hinted at in minutes of Faculty of Medicine meetings. Wishart was a foundation fellow of the American College of Surgeons and a founding physician of London's Catholic hospital, St. Joseph's, despite his own Protestant background.
Conclusions
Wishart's career comprised all the elements of modern academic surgery, including pioneering service, research, and teaching. Surgery at Western owes as much to Wishart as it does to university reorganization in response to the Flexner report.