01.12.2017 | Research | Ausgabe 1/2017 Open Access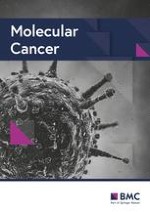 The lncRNA
CASC15

regulates SOX4 expression in RUNX1-rearranged acute leukemia
Zeitschrift:
Autoren:

Thilini R. Fernando, Jorge R. Contreras, Matteo Zampini, Norma I. Rodriguez-Malave, Michael O. Alberti, Jaime Anguiano, Tiffany M. Tran, Jayanth K. Palanichamy, Jasmine Gajeton, Nolan M. Ung, Cody J. Aros, Ella V. Waters, David Casero, Giuseppe Basso, Martina Pigazzi, Dinesh S. Rao
Wichtige Hinweise
Electronic supplementary material
The online version of this article (doi:
10.​1186/​s12943-017-0692-x
) contains supplementary material, which is available to authorized users.
Abbreviations
B-ALL
B-acute lymphoblastic leukemia
CLP
Common lymphoid progenitor
GEO
Gene Expression Omnibus database
LMPP
Lymphoid primed multipotent progenitor
RACE
Rapid amplification of cDNA ends
Background
Among the several classes of non-coding RNA species being described, long non-coding RNAs are notable for their status as unique gene structures [
1
]. The majority of lncRNAs is characterized by capped, polyadenylated, and spliced transcripts that lack an open reading frame. Genes encoding lncRNAs show positional conservation in the genome and contain very short stretches of highly conserved sequences between species [
1
–
3
]. Despite the similarities in their genetic organization, there is a great deal of variation in the functions of different lncRNAs. They play a variety of roles at the cellular level, including regulation of transcription and translation, leading to alterations in gene expression. One of these functions is the regulation of gene expression in
cis
, which results in the modulation of expression of chromosomally adjacent genes upon knockdown or overexpression of lncRNAs [
4
].
Our recent work has identified a list of lncRNAs that are differentially expressed in pediatric B-lymphoblastic leukemia (B-ALL) patient samples [
5
]. One of the lncRNAs from our study, annotated as
CASC15
, (previously annotated as
LINC00340
) was of particular interest as it neighbors the protein coding gene,
SOX4
. SOX4 was first identified as a transcriptional activator in lymphocytes and plays an essential role in B-cell development [
6
,
7
]. Recent studies have shown involvement of
SOX4
in many human malignancies, including the hematopoietic system [
8
,
9
].
CASC15
was recently described in two other types of cancer: neuroblastoma and melanoma. It is lost as part of the chromosome 6p22 deletion in neuroblastoma, and plays a role as a tumor suppressor gene in neuroblastoma cell lines [
10
]. Interestingly, a second study demonstrated that
CASC15
was associated with metastatic melanoma and siRNA-mediated knockdown resulted in altered growth and metastatic properties of melanoma-derived cell lines [
11
]. These two studies suggest somewhat different roles for
CASC15
, with an anti-proliferative phenotype in neuroblastoma, but a pro-metastatic role in melanoma.
In this study, we sought to delineate the function of
CASC15
in acute leukemia.
CASC15
expression was high in acute leukemia with
RUNX1
translocations, and its expression in cells led to increased apoptosis and decreased engraftment in the hematopoietic system. Our experiments also demonstrated the efficacy of knockdown of a lncRNA by using the recently described CRISPR/Cas9 system, adapted for this specific purpose. At the molecular level
CASC15
regulates SOX4 expression and downstream gene expression mediated by this transcription factor. Finally, the mechanism of action of CASC15 appears to involve modulation of gene expression by the transcription factor Yin and Yang-1 (YY1). These studies provide important insights into lncRNA function in the hematopoietic system.
Methods
Results
Discussion
The field of lncRNA research has recently been growing and the diversity of functions ascribed to lncRNAs includes transcriptional regulation amongst several others [
1
,
3
,
43
]. Following up on our initial discovery of dysregulated lncRNA expression in B-ALL, we have now characterized individual lncRNAs. Interestingly, the expression of
CASC15
in B-ALL and AML samples was highest in cases that carried a translocation involving the
RUNX1/AML1
.
RUNX1
mutations and translocations are amongst the most commonly seen mutations in hematologic malignancies [
44
–
46
]. All of these alterations lead to loss-of-function of
RUNX1
by a variety of mechanisms. It will be of interest to examine
CASC15
in other leukemia subtypes with
RUNX1
loss-of-function, and these experiments are the focus of future studies. Analyses of
CASC15
in adult B-ALL, AML, and correlations with clinicopathologic indicators will be important in defining a prognostic role for this lncRNA.
Here, we also identified a mouse transcript that shows sequence and functional conservation with human
CASC15
. Concordant with an overall role for
CASC15
as a tumor suppressor gene, our data also showed that overexpression of
CASC15
led to increased cell death in leukemia cell lines following prednisolone treatment. Additionally, primary hematopoietic cells that were transduced with mouse and human
CASC15
showed decreased colony formation and decreased levels of reconstitution in bone marrow transplantation assays. All of these findings suggest that
CASC15
expression may limit cell proliferation.
However, the high expression of
CASC15
in
RUNX1
-translocated cases is curious. Indeed, this might reflect a differential function in cell proliferation versus differentiation- with high
CASC15
causing a block in differentiation along with decreased proliferation. It is also possible that
CASC15
expression in leukemic cells simply reflects the stage of differentiation that they are derived from. In hematopoiesis, the expression profile of
CASC15
shows a bimodal distribution, with a peak in CLPs and a second peak in large pre-B-cells. Presumably, constitutive overexpression of
CASC15
prevents the drop seen at the pre-pro-B-cell stage and causes the observed myeloid bias and/or a block in B-cell development in the transplanted mice. It is possible that the cellular function of
CASC15
in modulating cell survival is also the basis of its function during development. Further studies, for example, in mice with deletion of
Bim
or overexpression of
Bcl2
, may help clarify the role of
CASC15
in differentiation versus cell survival.
Interestingly, our findings of reduced colony formation, reduced engraftment and myeloid bias have parallels with cellular and molecular phenotypes induced by expression of the
ETV6-RUNX1
fusion protein. For example, a series of studies have shown that the number of colonies produced by bone marrow transduced with
ETV6-RUNX1
was 10-fold reduced compared to control, showed myeloid bias, and showed an initial selective disadvantage in reconstitution of bone marrow [
47
–
49
]. Gene expression analysis has shown that ETV6-RUNX1 targets by ChIP-seq are enriched for inhibitors of proliferation pathways [
50
]. Hence, the mechanisms underlying transformation by ETV6-RUNX1 are complex, and require cooperating mutations and/or epigenetic events.
Our data also demonstrated knockdown of lncRNA utilizing the CRISPR-Cas9 system with a single guide RNA. Since we could not utilize traditional sgRNA targeting approaches for protein coding genes, which rely on generating frameshift mutations, we targeted transcription start, intron-exon junctions and poly A signal sites. Here, targeting three different intron-exon junctions in the
CASC15
transcript was sufficient to cause knockdown. Other manuscripts that successfully report lncRNA knockdown using CRISPR/Cas9 have utilized different strategies [
51
,
52
]. By using this simple and very straightforward technique for designing small genomic RNAs (sgRNAs), this promising new technology can be used in generating lncRNA knockouts, and to study the function of lncRNAs in high-throughput screening approaches using a single sgRNA targeting individual lncRNAs. We also validated a more traditional strategy to create deletions of segments of DNA using CRISPR/Cas9 mediated targeting. By generating a single retroviral vector that can successfully carry two sgRNAs, we have developed a high-titer retroviral reagent for efficient knockdown of lncRNA expression. However, it should be noted that all of these methods create a mixture of heterozygous and homozygous knockouts cells, and hence the downstream confirmation of knockout remains important.
In line with a function in transcriptional regulation, genes that neighbor
CASC15
were downregulated by
CASC15
knockdown. However, the most consistent result to emerge from this study was the strong positive relationship between
CASC15
and
SOX4
. Found to be strongly correlated in primary human leukemic cells and in mouse cells, as well as in experimental datasets with knockdown and overexpression of
CASC15/Casc15
, our findings are consistent with studies that demonstrate that the expression of lncRNAs is tightly coupled to that of neighboring genes [
2
]. Moreover,
CASC15
knockdown led to altered expression of genes that were enriched for transcriptional targets of SOX4. These findings suggest that one of the major functions of
CASC15
may be to regulate the expression of
SOX4
. A potential mechanism is suggested by the fact that
CASC15
knockdown by any method led to alterations in the global transcriptome regulated by the transcription factor YY1. Our further functional analyses revealed that
CASC15
promotes YY1-mediated transcriptional activity at the SOX4 promoter. It will be of great interest to determine if
CASC15
globally modulates which promoters YY1 binds to, and whether this occurs through direct interaction or via modulation of general transcriptional complexes.
SOX4
is thought to function as an oncogene in acute leukemia, particularly in the myeloid lineage [
8
,
53
–
55
]. SOX4 expression is thought to support self-renewal of leukemic cells and to inhibit differentiation in C/EBP α-mutant AML [
55
], support PI3K/Akt signaling in
BCR-ABL
-driven B-ALL [
53
], and cooperate with
Pu.1
haploinsufficiency in murine leukemia [
54
]. However, in this study,
Casc15
increased Sox4 but caused decreased engraftment in bone marrow transplantation experiments. This may also be in line with patient-based studies that have shown that elevated expression of
SOX4
leads to better survival, decreased disease progression, and reduced tumor cell invasiveness in several different cancers [
56
–
58
]. Hence, both
CASC15
-mediated regulation and
SOX4
function may be dependent on the transcriptional context of the leukemic cell, and this has not been previously assessed in B-ALL with
RUNX1
or
MLL
translocations. Further work to characterize the normal function of
CASC15
in hematopoietic development using germline murine knockout models or via CRISPR/Cas9 deletion in bone marrow cells will help illuminate its role in hematopoiesis.
Conclusion
Our work demonstrates cellular roles for a lincRNA identified in B-ALL. Additionally, we demonstrate a novel method of lincRNA knockdown by targeting splice junctions with the CRISPR/Cas9 system. At the molecular level, it appears that
CASC15
works by regulating expression of
SOX4
, likely by modulating the activity of transcription factors such as YY1. Our work opens the door to more extensive studies of lincRNAs in B-ALL and hematopoiesis. By better understanding lincRNA mediated actions in malignant gene expression programs, we will be better able to design prognostic indicators and therapeutic strategies targeting or harnessing lincRNAs.
Acknowledgements
We would like to thank the UCLA Clinical Microarray Core for performing the microarray hybridization experiments. We thank Lulan Wang, Parth C. Patel, Katherine Harmeyer, Jennifer King, and May Paing for their input. Flow cytometry was performed in the UCLA Jonsson Comprehensive Cancer Center (JCCC) and Center for AIDS Research Flow Cytometry Core Facility that is supported by National Institutes of Health awards CA-16042 and AI-28697, and by the JCCC, the UCLA AIDS Institute, the UCLA Council of Bioscience Resources, and the David Geffen School of Medicine at UCLA.
Funding
This research was supported by the NIH T32 CA009056 (T.R.F. and T.M.T.), NIH T32 CA009120 (J.R.C.)
,
NIH T32 HL086345 (N.M.U), National Science Foundation DGE-1144087 (N.I.R.M.), Eugene V. Cota-Robles Fellowship from UCLA (J.R.C. and N.I.R.M.), Eli and Edythe Broad Center of Regenerative Medicine and Stem Cell Research at UCLA Training Program (M.O.A.), NIH Small Research Grant Program R03CA175426 (D.S.R.), the Irving Feintech Family Foundation/ Tower Cancer Research Foundation Research Grant (D.S.R.), the University of California Cancer Research Coordinating Committee (D.S.R.) and the Stein-Oppenheimer Endowment Award (D.S.R.).
Availability of data and materials
Please contact the corresponding author for all the data requests. All sequencing data files have been deposited in NCBI Gene expression Omnibus database under accession number GSE101149.
Ethics approval
All the procedures were approved by the local institutional review boards, and the study was considered exempt from review at UCLA. All animal studies were performed with approval from the UCLA Chancellor's Animal Research Committee (ARC), which represents the local IACUC body at UCLA.
Consent for publication
Not applicable.
Competing interests
The authors have no relevant competing interests.
Open Access
This article is distributed under the terms of the Creative Commons Attribution 4.0 International License (
http://​creativecommons.​org/​licenses/​by/​4.​0/​
), which permits unrestricted use, distribution, and reproduction in any medium, provided you give appropriate credit to the original author(s) and the source, provide a link to the Creative Commons license, and indicate if changes were made. The Creative Commons Public Domain Dedication waiver (
http://​creativecommons.​org/​publicdomain/​zero/​1.​0/​
) applies to the data made available in this article, unless otherwise stated.