05.02.2019 | Original Article | Ausgabe 5/2019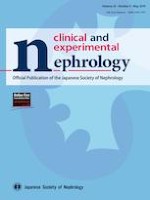 The long-term outcome of childhood nephrotic syndrome in Germany: a cross-sectional study
Zeitschrift:
Autoren:

Malik Aydin, Ingo Franke, Lisa Kurylowicz, Rainer Ganschow, Michael Lentze, Mark Born, Rebekka Hagemann
Wichtige Hinweise
Electronic supplementary material
Malik Aydin and Ingo Franke have contributed equally to this work and share the first authorship.
Mark Born and Rebekka Hagemann have contributed equally to this work and share the senior authorship.
Ingo Franke (R.I.P.) passed away during the submission process.
Publisher's Note
Springer Nature remains neutral with regard to jurisdictional claims in published maps and institutional affiliations.
Abstract
Background
Long-term outcomes of children with nephrotic syndrome have not been well described in the literature.
Methods
Cross-sectional study data analysis of
n
 = 43 patients with steroid-sensitive (SSNS) and
n
 = 7 patients with steroid-resistant (SRNS) nephrotic syndrome were retrospectively collected; patients were clinically examined at a follow-up visit (FUV), on average 30 years after onset, there was the longest follow-up period to date.
Results
The mean age at FUV was 33.6 years (14.4–50.8 years,
n
 = 41). The mean age of patients with SSNS at onset was 4.7 years (median 3.8 years (1.2–14.5 years), the mean number of relapses was 5.8 (0 to 29 relapses). Seven patients (16.3%) had no relapses. Eleven patients were "frequent relapsers" (25.6%) and four patients still had relapses beyond the age of 18 years. Except of cataracts and arterial hypertension, there were no negative long-term outcomes and only one patient was using immunosuppressant therapy at FUV. 55% of patients suffered from allergies and 47.5% had hypercholesterolemia. Two patients suffered a heart attack in adulthood. A younger age at onset (< 4 years) was a risk factor for frequent relapses. An early relapse (within 6 months after onset) was a risk factor and a low birth weight was not a significant risk factor for a complicated NS course. The mean age of patients with SRNS at onset was 4.6 ± 4.4 years and 27.5 ± 9.9 years at FUV. Three patients received kidney transplantations.
Conclusions
The positive long-term prognosis of SSNS can reduce the concern of parents about the probability of the child developing a chronic renal disease during the clinical course after onset.