29.05.2017 | Original Article – Cancer Research | Ausgabe 10/2017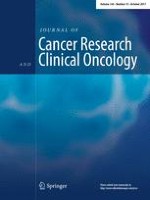 The long-term prognostic value of survivin expressing circulating tumor cells in patients with high-risk non-muscle invasive bladder cancer (NMIBC)
Zeitschrift:
Autoren:

Chiara Nicolazzo, Gian Maria Busetto, Francesco Del Giudice, Isabella Sperduti, Diana Giannarelli, Angela Gradilone, Paola Gazzaniga, Ettore de Berardinis, Cristina Raimondi
Wichtige Hinweise
Chiara Nicolazzo and Gian Maria Busetto contributed equally to this work.
Abstract
Objectives
Long-term follow-up study to evaluate the impact on disease-free survival and cancer-specific survival of survivin expression in tissue and CTCs from T1G3 bladder cancer patients.
Patients and methods
The study was conducted using tumor tissue and blood samples from 54 patients with a primary diagnosis of T1G3 NMIBC. Survivin was evaluated by reverse transcription-polymerase chain reaction in tumor tissues. CTCs were isolated from blood by CELLection™ Dynabeads (Invitrogen, Carlsbad, CA, USA). Cells were lysed and cDNA was synthesized and analysed for the expression of CD45, CK8 and survivin. The endpoints of this long-termanalysis were disease-free survival, DFS and cancer-specific survival, CSS.
Results
Here, we report that, at 9 years of median follow-up, disease-free survival and cancer-specific survival are both significantly influenced by the expression of survivin in tumor tissue (
p
= 0.006), by the presence of CTCs (
p
< 0.0001) and by the expression of survivin in CTCs (
p
< 0.0001).
Conclusion
The statistically significant impact of survivin expressing CTCs on cancer-specific survival that we observed might be interpreted as the result of the persistence of a subpopulation of highlander cells in the blood of T1G3 bladder patients over time.