01.12.2018 | Research article | Ausgabe 1/2018 Open Access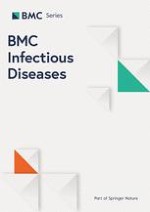 The magnitude of antibiotic resistance to
Helicobacter pylori

in Africa and identified mutations which confer resistance to antibiotics: systematic review and meta-analysis
Zeitschrift:
Autoren:

Hyasinta Jaka, Jee Ah. Rhee, Linda Östlundh, Luke Smart, Robert Peck, Andreas Mueller, Christa Kasang, Stephen E. Mshana
Wichtige Hinweise
Electronic supplementary material
Abstract
Background
Worldwide
Helicobacter pylori
(
H.pylori)
treatment is of great challenge due to increased antibiotic resistance. The burden of
H. pylori
antibiotic resistance in Africa is high with unclear information regarding the real magnitude. This systematic review and meta-analysis was conducted to investigate the magnitude of
H.pylori
antibiotic resistance in Africa to gain insight of the extent of the problem among
H.pylori
naïve treatment patients.
Method
The search was performed in the academic databases, Embase, PubMed, Web of Science and Africa Wide Information. ProQuest Dissertation and Theses, Scopus, Ethos, Africa Index Medicus (WHO), BioMed Central Proceedings, BASE, British Library, Open grey, Library of Congress and the New York Academy of Grey Literature Report were additionally searched for grey literature
.
Published articles from Africa on
H.pylori
antibiotic resistance between 1986 and June 2017 were systematically reviewed to estimate the
H. pylori
extent of resistance to macrolides, quinolones, amoxicillin, tetracycline and metronidazole.
Results
In 26 articles a total of 2085 isolates were tested for metronidazole, 1530 for amoxicillin, 1277 for tetracycline, 1752 for clarithromycin and 823 for quinolones.The overall pooled proportion of
H.pylori
resistance to quinolones, clarithromycin, tetracycline, metronidazole and amoxicillin were: (17.4%, 95%CI 12.8 - 21.9), (29.2%, 95%CI:26.7-31.8), (48.7%, 95%CI: 44.5-52.9), (75.8%, 95% CI: 74.1-.77.4) and (72.6%, 95% CI: 68.6-76.6), respectively. The commonest mutation detected were A2143G (49/97) for clarithromycin, RdxA (41/56) for metronidazole and D87I (16/40) for quinolones.
Conclusion
Prevalence of metronidazole, clarithromycin, and amoxicillin resistance is high in developing world including Africa. This could impair the first line triple therapy of the
H.pylori
infection. There is a need of conducting surveillance of
H.pylori
susceptibility pattern in Africa for dual and triple resistance which can be used for the empirical treatment.