01.12.2015 | Original clinical investigation | Ausgabe 1/2015 Open Access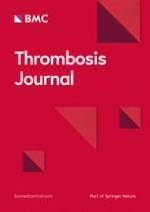 The management of acute venous thromboembolism in clinical practice – study rationale and protocol of the European PREFER in VTE Registry
Zeitschrift:
Autoren:

Giancarlo Agnelli, Anselm K. Gitt, Rupert Bauersachs, Eva-Maria Fronk, Petra Laeis, Patrick Mismetti, Manuel Monreal, Stefan N. Willich, Wolf-Peter Wolf, Alexander T. Cohen, On behalf of the PREFER in VTE investigators
Wichtige Hinweise
Competing interests
Giancarlo Agnelli (GA), Rupert Bauersachs (RB), Alexander T. Cohen (ATC), Anselm K. Gitt (AKG), Patrick Mismetti (PM), Manuel Monreal (MM), and Stefan N. Willich (SNW) have received research support and/or honoraria for lectures from a number of pharmaceutical companies including Daiichi Sankyo, the sponsor of the registry. Eva-Maria Fronk (EMF), Petra Laeis (PL), Wolf-Peter Wolf (WPW) are employed by Daiichi Sankyo Europe GmbH. The members of the Steering Committee received honoraria and travel reimbursements from Daiichi Sankyo Europe GmbH for their participation in Steering Committee Meetings.
Authors' contributions
All authors have contributed to the design of the registry. EMF is responsible for the analysis of data. ATC, AKG, PL and WPW drafted the manuscript based on the protocol and all other authors revised the article for important intellectual content. All authors have finally approved the version to be published. Apart from the selection of the countries, all design aspects were decided by the scientific Steering Committee and executed by independent Contract Research organizations. The members of the Steering Committee received honoraria for their advice in the planning of the Registry.
Abstract
Background
Venous thromboembolism (VTE) is a major health problem, with over one million events every year in Europe. However, there is a paucity of data on the current management in real life, including factors influencing treatment pathways, patient satisfaction, quality of life (QoL), and utilization of health care resources and the corresponding costs. The PREFER in VTE registry has been designed to address this and to understand medical care and needs as well as potential gaps for improvement.
Methods/design
The PREFER in VTE registry was a prospective, observational, multicenter study conducted in seven European countries including Austria, France Germany, Italy, Spain, Switzerland, and the UK to assess the characteristics and the management of patients with VTE, the use of health care resources, and to provide data to estimate the costs for 12 months treatment following a first-time and/or recurrent VTE diagnosed in hospitals or specialized or primary care centers. In addition, existing anticoagulant treatment patterns, patient pathways, clinical outcomes, treatment satisfaction, and health related QoL were documented. The centers were chosen to reflect the care environment in which patients with VTE are managed in each of the participating countries. Patients were eligible to be enrolled into the registry if they were at least 18 years old, had a symptomatic, objectively confirmed first time or recurrent acute VTE defined as either distal or proximal deep vein thrombosis, pulmonary embolism or both. After the baseline visit at the time of the acute VTE event, further follow-up documentations occurred at 1, 3, 6 and 12 months. Follow-up data was collected by either routinely scheduled visits or by telephone calls.
Results
Overall, 381 centers participated, which enrolled 3,545 patients during an observational period of 1 year.
Conclusion
The PREFER in VTE registry will provide valuable insights into the characteristics of patients with VTE and their acute and mid-term management, as well as into drug utilization and the use of health care resources in acute first-time and/or recurrent VTE across Europe in clinical practice.