01.12.2014 | Ausgabe 4/2014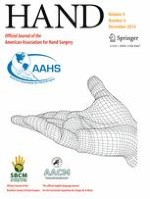 The Meniscus Arrow® as a fixation device for the treatment of mallet fractures: results of 50 cases
Zeitschrift:
Autoren:

Fenne L. M. Aarts, Rosalie Derks, Diederick B. Wouters
Abstract
Background
The treatment of mallet fractures is a controversial and challenging problem. Generally, mallet fractures are treated conservatively except those involving more than one third of the base of the distal phalanx. Many different surgical fixation techniques have been published. This paper describes a new fixation procedure using ultimate bioresorbable meniscal fixation nails (Meniscus Arrows®).
Methods
Mallet fractures in 50 digits of 49 patients were fixed with this nail in an outpatient surgical procedure, mostly under local (Oberst-block) anaesthesia. The average operation time was 21 min.
Results
According to the Crawford criteria, patient outcome was graded as excellent in 48 %, good in 22 %, and fair in 28 %. In one patient, the outcome was graded as poor, but the fracture was in a pre-existent arthritic joint. All fractures were consolidated without recurrent dislocation. Complications included one wound infection, which was successfully treated with antibiotics and without further consequences. No nail deformities occurred. Two times, the nail spontaneously and gradually dislocated during intensive use of the hand after, respectively, 3 and 6 months and could easily be removed under local anaesthesia without any functional sequelae.
Conclusion
The bioresorbable meniscal nail fixation technique provides a fast and successful surgical treatment for mallet fractures with a minimum of adverse events.