01.12.2018 | Research article | Ausgabe 1/2018 Open Access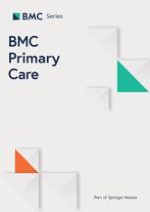 The Mini-International Neuropsychiatric Interview is useful and well accepted as part of the clinical assessment for depression and anxiety in primary care: a mixed-methods study
Zeitschrift:
Autoren:

Agneta Pettersson, Sonja Modin, Rolf Wahlström, Sandra af Winklerfelt Hammarberg, Ingvar Krakau
Wichtige Hinweise
Electronic supplementary material
Abstract
Background
Psychiatric complaints are common among primary care patients, with depression and anxiety being the most frequent. Diagnosis of anxiety and depression can be difficult, potentially leading to over- as well as under-diagnosis. The diagnostic process can be facilitated by incorporating structured interviews as part of the assessment. One such instrument, the Mini-International Neuropsychiatric Interview (MINI), has been established and accepted in psychiatric care. The purpose of this study was to explore the experiences and perceptions of the paper-and-pen version of MINI version 6.0 among patients and staff in primary care centers in Sweden.
Methods
The MINI was introduced at three primary care centers and was conducted by either therapists or general practitioners. Patients presented with symptoms that could suggest depression or anxiety disorders. The duration of the interview was recorded. The experiences and perceptions of 125 patients and their interviewers were collected using a structured questionnaire. Global satisfaction was measured with a visual-analog scale (0–100). Semi-structured interviews were conducted with 24 patients and three therapists, and focus groups were held with 17 general practitioners. Qualitative content analysis was used for the interviews and focus groups. The findings across the groups were triangulated with results from the questionnaires.
Results
The median global satisfaction with the MINI was 80 for patients and 86 for interviewers. General practitioners appreciated that the MINI identified comorbidities, as one-third of the patients had at least two psychiatric diagnoses. The MINI helped general practitioners attain a more accurate diagnosis. Patients appreciated that the MINI helped them recognize and verbalize their problems and did not find it intrusive. Patients and interviewers had mixed experiences with the yes-no format of the MINI, and the risk of subjective interpretations was acknowledged. Patients, general practitioners and therapists stated that the MINI contributed to appropriate treatment. The MINI assessment lasted 26 min on average (range 12 to 60 min).
Conclusions
The paper-and-pen version of the MINI could be useful in primary care as part of the clinical assessment of patients with problems suggestive of depression or anxiety disorders. The MINI was well accepted by patients, general practitioners and therapists.