01.12.2018 | Research | Ausgabe 1/2018 Open Access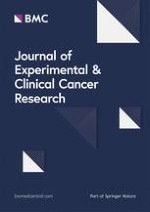 The
miR-181

family promotes cell cycle by targeting

CTDSPL

, a phosphatase-like tumor suppressor in uveal melanoma
Zeitschrift:
Autoren:

Leilei Zhang, Xiaoyu He, Fang Li, Hui Pan, Xiaolin Huang, Xuyang Wen, He Zhang, Bin Li, Shengfang Ge, Xiaofang Xu, Renbing Jia, Xianqun Fan
Wichtige Hinweise
Electronic supplementary material
Leilei Zhang, Xiaoyu He and Fang Li contributed equally to this report.
Xiaofang Xu, Renbing Jia and Xianqun Fan are senior authors of this report.
Abstract
Background
MicroRNAs (miRNAs) have been shown to function in many different cellular processes, including proliferation, apoptosis, differentiation and development.
miR-181a
, -
181b
,
-181c
and
-181d
are
miR-181
members of the family, which has been rarely studied, especially uveal melanoma.
Methods
The expression level of miR-181 family in human uveal melanoma cell lines was measured via real-time PCR (RT-PCR). The function of miR-181 on cell cycle was detected through Flow Cytometry assay. Microarray assay and Bioinformatics analysis were used to find the potential target of miR-181b, and dual-luciferase reporter assays further identified the target gene.
Results
MiR-181
family members were found to be highly homologous across different species and their upregulation significantly induces UM cell cycle progression. Of the family members,
miR-181b
was significantly overexpressed in UM tissues and most UM cells. Bioinformatics and dual luciferase reporter assay confirmed CTDSPL as a target of
miR-181b
.
miR-181b
over-expression inhibited CTDSPL expression, which in turn led to the phosphorylation of RB and an accumulation of the downstream cell cycle effector E2F1, promoting cell cycle progression in UM cells. Knockdown CTDSPL using siRNAs showing the same effect, including increase of E2F1 and the progression of cell cycle.
Conclusions
MiR-181
family members are key negative regulators of CTDSPL-mediated cell cycle progression. These results highlight that
miR-181
family members, especially
miR-181b
, may be useful in the development of miRNA-based therapies and may serve as novel diagnostic and therapeutic candidate for UM.