01.12.2019 | Case report | Ausgabe 1/2019 Open Access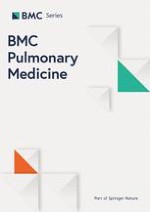 The multiple systemic artery to pulmonary artery fistulas resulting in severe irreversible pulmonary arterial hypertension in patient with previous history of pneumothorax
Zeitschrift:
Autoren:

Wojciech Jacheć, Andrzej Tomasik, Marcin Kurzyna, Radosław Pietura, Adam Torbicki, Jan Głowacki, Ewa Nowalany-Kozielska, Celina Wojciechowska
Abstract
Background
Systemic artery to pulmonary artery fistulas (SA-PAFs), are extremely rare in people without congenital heart disease. In this group of patients pulmonary arterial hypertension was reported in the single case. Then, we describe a case of multiple SA-PAFs, which were the cause of severe nonreversible arterial pulmonary hypertension in a patient who had a right-sided pneumothorax 35 years earlier.
Case presentation
52-year-old male Caucasian patient with echocardiographically confirmed pulmonary hypertension (PH) was admitted to cardiology department due to exertional dyspnea and signs of right ventricle failure. Routine screening for causes of secondary PH was negative. Right heart catheterization (RHC) confirmed a high degree arterial PH [mean pulmonary artery pressure (mPAP); 50,6 mmHg, pulmonary wedge pressure (PWP); 11,3 mmHg, pulmonary vascular resistance (PVR); 11,9 Wood's units (WU)] irreversible in the test with inhaled nitric oxide. Oxygen saturation (SaO2) of blood samples obtained during the first RHC ranged from 69.3 to 73.2%. Idiopathic pulmonary arterial hypertension was diagnosed. Treatment with inhaled iloprost and sildenafil was initiated.
Control RHC, performed 5 months later showed values of mPAP (59,7 mmHg) and PVR (13,4 WU) higher in comparison to the initial measurement, SaO2 of blood obtained during RHC from upper lobe artery of the right lung was elevated and amounted 89.7%.
Then, pulmonary arteriography was performed. Lack of contrast in the right upper lobe artery with the evidence of retrograde blood flow visible as a negative contrast in the right pulmonary artery was found. Afterwards, right subclavian artery arteriography detected a huge vascular malformation communicating with right upper lobe artery. Following computed tomography angiogram (angio-CT) additionally revealed the enlargement of bronchial arteries originated fistulas to pulmonary artery of right upper lobe.
In spite of intensive pharmacological treatment, including the therapy of pulmonary hypertension and percutaneous embolisation of the fistulas, the patient's condition continued to deteriorate further. He died three months after embolisation due to severe heart failure complicated by pneumonia.
Conclusion
Non-congenital SA-PAFs are extremely rare, however, they should be excluded in patients with pulmonary arterial hypertension and history of inflammatory or infectious disease of the lung and pleura, pneumothorax, cancer or Takayashu's disease and after chest trauma.