01.12.2018 | Research | Ausgabe 1/2018 Open Access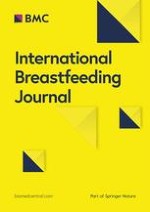 'The mum has to live with the decision much more than the dad'

; a qualitative study of men's perceptions of their influence on breastfeeding decision-making
Zeitschrift:
Autoren:

Luke Hounsome, Sally Dowling
Wichtige Hinweise
Electronic supplementary material
Abstract
Background
Although breastfeeding is widely acknowledged as the normal method of infant feeding, there are large variations in rates of initiation and duration. Several factors are linked to the likelihood of breastfeeding initiation, including the influence and opinion of the child's father. There is limited research into men's perception of their influence, or if they feel it appropriate to be involved in deciding how to feed their children. The aim of this study was to investigate, using a qualitative methodology, fathers' perceptions of their influence on the decision to feed their child breastmilk or formula.
Methods
Six men were recruited through Children's Centres in Bristol, United Kingdom, and a phenomenological research methodology implemented using semi-structured interviews. Specific objectives were: to understand participants' views on breastfeeding; understand if and how these views were discussed with their partner; to determine if participants believed involvement in the feeding decision is appropriate; to understand how they felt about the decision made; and to see if their views changed after the birth of their child.
Results
Multiple themes emerged during analysis, including deferring of responsibility to the mother; breastfeeding as normal practice; change in attitude; involvement in parenting; and, advantages for the father. The men in the study accepted breastfeeding as normal behaviour, probably because of their upbringing in households where breastfeeding was practiced. There was consensus that women had more say in deciding to breastfeed, which was explained as a consequence of their greater involvement. It could also be interpreted as an unwillingness to interfere in an area perceived as 'owned' by women. Participants acknowledged that breastfeeding was more difficult than they had perceived.
Conclusions
The key themes emerging from the interviews are suggestive of an impact on breastfeeding interventions that use the father as an intermediary. If they do not feel that they are 'permitted' to comment on their partner's breastfeeding, then simply increasing knowledge of breastfeeding benefits in these men is likely to have minimal impact.