01.12.2016 | Research article | Ausgabe 1/2016 Open Access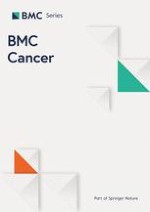 The MYCN-HMGA2-CDKN2A pathway in non-small cell lung carcinoma—differences in histological subtypes
Zeitschrift:
Autoren:

Hanne A. Eide, Ann Rita Halvorsen, Maria Moksnes Bjaanæs, Hossein Piri, Ruth Holm, Steinar Solberg, Lars Jørgensen, Odd Terje Brustugun, Cecilie Essholt Kiserud, Åslaug Helland
Wichtige Hinweise
Electronic supplementary material
The online version of this article (doi:
10.​1186/​s12885-016-2104-9
) contains supplementary material, which is available to authorized users.
Competing interests
The authors declare that they have no competing interests.
Authors' contributions
HAE performed the data analysis and wrote the manuscript. ARH and HP performed the RT-qPCR. ARH and MMB performed the microRNA microarrays and provided the adenocarcinoma validation set. RH evaluated the immunostained sections. SS, LJ and OTB provided patient material and patient data. CEK participated in the data analysis and in writing the manuscript. ÅH conceived the study, provided patient material and data, and participated in writing the manuscript. All authors read and approved the final manuscript.
Abstract
Background
Extensive research has increased our understanding of the molecular alterations needed for non-small cell lung cancer (NSCLC) development. Deregulation of a pathway including MYCN, HMGA2 and CDKN2A, with the participation of DICER1, is of importance in several solid tumours, and may also be of significance in the pathogenesis of NSCLC.
Methods
Gene expression of
MYCN
,
HMGA2
,
CDKN2A
and
DICER1
were investigated with RT-qPCR in surgically resected NSCLC tumour tissue from 175 patients. Expression of the let-7 microRNA family was performed in 78 adenocarcinomas and 16 matching normal lung tissue samples using microarrays. The protein levels of HMGA2 were determined by immunohistochemistry in 156 tumour samples and the protein expression was correlated with gene expression. Associations between clinical data, including time to recurrence, and expression of mRNA, protein and microRNAs were analysed.
Results
Compared to adenocarcinomas, squamous cell carcinomas had a median 5-fold increase in mRNA expression of
HMGA2
(
p
 = 0.003). A positive correlation (
r
 = 0.513,
p
 < 0.010) between
HMGA2
mRNA expression and HMGA2 protein expression was seen. At the protein level, 90 % of the squamous cell carcinomas expressed high levels of the HMGA2 protein compared to 47 % of the adenocarcinomas (
p
 < 0.0001).
MYCN
was positively correlated with
HMGA2
(
p
 < 0.010) and
DICER1
mRNA expression (
p
 < 0.010), and the expression of the let-7 microRNAs seemed to be correlated with the genes studied.
MYCN
expression was associated with time to recurrence in multivariate survival analyses (
p
 = 0.020).
Conclusions
A significant difference in
HMGA2
mRNA expression between the histological subtypes of NSCLC was seen with a higher expression in the squamous cell carcinomas. This was also found at the protein level, and we found a good correlation between the mRNA and the protein expression of HMGA2. Moreover, the expression of
MYCN
,
HMGA2
, and
DICER1
seems to be correlated to each other and the expression of the
let7
-genes impacted by their expression.
MYCN
gene expression seems to be of importance in time to recurrence in this patient cohort with resected NSCLC.