13.04.2016 | Original Article | Ausgabe 7/2016 Open Access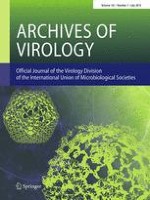 The N-terminal fragment of the tomato torrado virus RNA1-encoded polyprotein induces a hypersensitive response (HR)-like reaction in
Nicotiana benthamiana
Zeitschrift:
Autoren:

Przemysław Wieczorek, Aleksandra Obrępalska-Stęplowska
Abstract
The hypersensitive response (HR) is a defence reaction observed during incompatible plant-pathogen interactions in plants infected with a wide range of fungi, bacteria and viruses. Here, we show that an N-terminal polyprotein fragment encoded by tomato torrado virus RNA1, located between the first ATG codon and the protease cofactor (ProCo) motif, induces an HR-like reaction in
Nicotiana benthamiana
.
Agrobacterium tumefaciens
-mediated transient expression of the first 105 amino acids (the calculated molecular weight of the fragment was ca. 11.33 kDa, hereafter refered to as the 11K domain) from ToTV RNA1 induced an HR-like phenotype in infiltrated leaves. To investigate whether the 11K domain could influence the virulence and pathogenicity of a recombinant virus, we created a potato virus X (PVX) with the 11K coding sequence inserted under a duplicated coat protein promoter. We found that 11K substantially increased the virulence of the recombinant virus. Disease phenotype induced in
N. benthamiana
by PVX-11K was characterized by strong local and systemic necrosis. This was not observed when the 11K domain was expressed from PVX in an antisense orientation. Further analyses revealed that the 11K domain could not suppress posttranscriptional gene silencing (PTGS) of green fluorescent protein (GFP) in the
N. benthamiana
16c line.
In silico
analysis of the predicted secondary structure of the 11K domain indicated the presence of two putative helices that are highly conserved in tomato-infecting representatives of the genus
Torradovirus
.