01.12.2015 | Research article | Ausgabe 1/2015 Open Access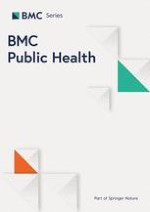 The natural history of cardiovascular risk factors in health professionals: 20-year follow-up
Zeitschrift:
Autoren:

Thiago Veiga Jardim, Ana Luiza Lima Sousa, Thais Inacio Rolim Povoa, Weimar Kunz Sebba Barroso, Brunela Chinem, Luciana Jardim, Rafaela Bernardes, Antonio Coca, Paulo Cesar Brandão Veiga Jardim
Wichtige Hinweise
Competing interest
The authors report no applicable conflicts of interest.
Authors' contributions
Jardim, TSV; Sousa, ALL; Povoa, TIR; Barroso, WKS; Chinem, B; Jardim, L; Bernardes, R; Coca, A; Jardim, PCBV - have made substantial contributions to conception and design, acquisition of data, analysis and interpretation of data, have been involved in drafting the manuscript and revising it critically for important intellectual content; and have given final approval of the version to be published.
Abstract
Background
The knowledge of the presence and evolution of cardiovascular risk factors in young people may significantly contribute to actions to modify the natural history of these risks and prevent the onset of cardiovascular disease.
Objectives
To assess the presence and evolution of cardiovascular risk factors in health professionals over a 20-year period.
Methods
A group of individuals was evaluated when they first started graduate programs in medicine, nursing, nutrition, dentistry, and pharmacy, and 20 years later. Data obtained in the two phases were compared. Questionnaires about hypertension, diabetes, hypercholesterolemia, family history of early-onset cardiovascular disease, smoking, alcohol consumption, and sedentary lifestyle were administered. Cholesterol, blood glucose, blood pressure, weight, height, and body mass index (BMI) were measured.
Results
Of the 281 individuals (62.9 % women; mean age 19.7 years) initially analyzed, 215 (59.07 % women; mean age 39.8 years) were analyzed 20 years later. An increase in mean values of systolic (111.6 vs 118.7 mmHg–
p
 < 0.001) and diastolic blood pressure (71vs 77.1 mmHg –
p
 < 0.001), cholesterol (150.1 vs 182.4 mg/dL –
p
 < 0.001), blood glucose (74.3 vs 81.4 mg/dL –
p
 < 0.001) and BMI (20.7 vs 23.7 kg/m
2
–
p
 = 0.017) was observed. Despite the decrease of sedentarism (50.2 vs 38.1 % -
p
 = 0.015), the prevalence of hypertension (4.6 vs 18.6 % -
p
 < 0.001), excessive weight (8.2 vs 32.1 % -
p
 < 0.001), hypercholesterolemia (7.8 vs 24.2 % -
p
 < 0.001), and alcohol consumption (32.7 vs 34.9 % -
p
 = 0.037) increased. There was no change in the prevalence of smoking.
Conclusion
Health professionals presented an increase in systolic and diastolic blood pressure, blood glucose, body mass index, and cholesterol over the 20-year study period. Regarding the prevalence of cardiovascular risk factors, increased blood pressure, overweight, hypercholesterolemia and alcohol consumption, and a decrease in sedentary lifestyle were observed.