01.12.2017 | Review | Ausgabe 1/2017 Open Access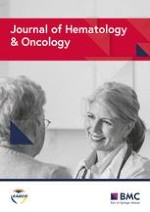 The next generation of immunotherapy: keeping lung cancer in check
Zeitschrift:
Autoren:

Ashwin Somasundaram, Timothy F. Burns
Abstract
Lung cancer is the deadliest malignancy with more cancer deaths per year than the next three cancers combined. Despite remarkable advances in targeted therapy, advanced lung cancer patients have not experienced a significant improvement in mortality. Lung cancer has been shown to be immunogenic and responsive to checkpoint blockade therapy. Checkpoint signals such as CTLA-4 and PD-1/PD-L1 dampen T cell activation and allow tumors to escape the adaptive immune response. Response rates in patients with pretreated, advanced NSCLC were much higher and more durable with PD-1 blockade therapy compared to standard-of-care, cytotoxic chemotherapy. Therefore, PD-1 inhibitors such as nivolumab and pembrolizumab were rapidly approved for both squamous and nonsquamous lung cancer in the pretreated population. The advent of these new therapies have revolutionized the treatment of lung cancer; however, the majority of NSCLC patients still do not respond to PD-1/PD-L1 inhibition leaving an unmet need for a large and growing population.
Immunotherapy combinations with chemotherapy, radiation therapy, or novel immunomodulatory agents are currently being examined with the hope of achieving higher response rates and improving overall survival rate. Chemotherapy and radiation therapy has been theorized to increase the release of tumor antigen leading to increased responses with immunotherapy. However, cytotoxic chemotherapy and radiation therapy may also destroy actively proliferating T cells. The correct combination and order of therapy is under investigation. The majority of patients who do respond to immunotherapy have a durable response attributed to the effect of adaptive immune system's memory. Unfortunately, some patients' tumors do progress afterward and investigation of checkpoint blockade resistance is still nascent.
This review will summarize the latest efficacy and safety data for early and advanced NSCLC in both the treatment-naïve and pretreated settings. The emerging role of immunotherapy for the treatment of small cell lung cancer and malignant mesothelioma will also be discussed.