01.03.2012 | Original Research Paper | Ausgabe 3/2012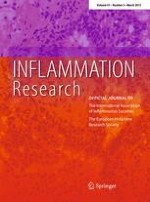 The NLRP3 inflammasome is active but not essential in endotoxin-induced uveitis
Zeitschrift:
Autoren:

Holly L. Rosenzweig, April Woods, Jenna S. Clowers, Stephen R. Planck, James T. Rosenbaum
Wichtige Hinweise
Responsible Editor: Graham Wallace.
Abstract
Objective
The inflammasome complex involving caspase-1 and nucleotide-binding domain, leucine-rich repeat containing protein (NLRP)3, also known as NALP3 or cryopyrin is important for host responses to microbial pathogens and several autoinflammatory diseases. We investigated the extent to which NLRP3 and caspase-1 control ocular interleukin (IL)-1β production and severity of uveitis (intraocular inflammatory disease) in an established, acute inflammatory uveitis model, endotoxin-induced uveitis (EIU).
Methods
Expression of NLRP3, its adaptor molecule ASC, also known as PYCARD (PYD and CARD domain containing), and caspase-1 were examined by immunoblotting. IL-1β production was measured by enzyme-linked immunosorbent assay (ELISA). Using knockout mice, roles for caspase-1 and NLRP3 were examined in uveitis induced by intraocular injection of
Escherichia coli
lipopolysaccharide (LPS).
Results
NLRP3, ASC, and caspase-1 proteins are constitutively expressed in eye tissue. During EIU, IL-1β protein production increases; this requires the presence of both caspase-1 and NLRP3. However, severity of EIU is not altered by deficiency in either caspase-1 or NLRP3, as assessed by both intravital microscopy and histology.
Conclusions
These data identify the importance of the NLRP3 inflammasome for IL-1β production in the eye, yet indicate that its participation in EIU is nonessential.