01.08.2011 | Research article | Ausgabe 4/2011 Open Access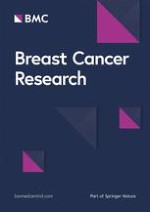 The non-protein coding breast cancer susceptibility locus
Mcs5a

acts in a non-mammary cell-autonomous fashion through the immune system and modulates T-cell homeostasis and functions
Zeitschrift:
Autoren:

Bart MG Smits, Deepak Sharma, David J Samuelson, Stephan Woditschka, Bob Mau, Jill D Haag, Michael N Gould
Wichtige Hinweise
Electronic supplementary material
The online version of this article (doi:
10.​1186/​bcr2933
) contains supplementary material, which is available to authorized users.
Bart MG Smits, Deepak Sharma, David J Samuelson contributed equally to this work.
Competing interests
The authors declare that they have no competing interests.
Authors' contributions
BMGS, DS, and DJS performed experiments, analyzed data, and drafted the manuscript. SW and JDH performed experiments and analyzed data. BM designed statistical approaches and analyzed data. MNG conceived the study, participated in the design of the study, and helped to draft the manuscript. All authors read and approved the final manuscript.
Abstract
Introduction
Mechanisms underlying low-penetrance, common, non-protein coding variants in breast cancer risk loci are largely undefined. We showed previously that the non-protein coding mammary carcinoma susceptibility locus
Mcs5a/MCS5A
modulates breast cancer risk in rats and women. The
Mcs5a
allele from the Wistar-Kyoto (WKy) rat strain consists of two genetically interacting elements that have to be present on the same chromosome to confer mammary carcinoma resistance. We also found that the two interacting elements of the resistant allele are required for the downregulation of transcript levels of the
Fbxo10
gene specifically in T-cells. Here we describe mechanisms through which
Mcs5a
may reduce mammary carcinoma susceptibility.
Methods
We performed mammary carcinoma multiplicity studies with three mammary carcinoma-inducing treatments, namely 7,12-dimethylbenz(a)anthracene (DMBA) and
N
-nitroso-
N
-methylurea (NMU) carcinogenesis, and mammary ductal infusion of retrovirus expressing the activated
HER2/neu
oncogene. We used mammary gland and bone marrow transplantation assays to assess the target tissue of
Mcs5a
activity. We used immunophenotyping assays on well-defined congenic rat lines carrying susceptible and resistant
Mcs5a
alleles to identify changes in T-cell homeostasis and function associated with resistance.
Results
We show that
Mcs5a
acts beyond the initial step of mammary epithelial cell transformation, during early cancer progression. We show that
Mcs5a
controls susceptibility in a non-mammary cell-autonomous manner through the immune system. The resistant
Mcs5a
allele was found to be associated with an overabundance of gd T-cell receptor (TCR)+ T-cells as well as a CD62L (L-selectin)-high population of all T-cell classes. In contrast to in mammary carcinoma, gdTCR+ T-cells are the predominant T-cell type in the mammary gland and were found to be overabundant in the mammary epithelium of
Mcs5a
resistant congenic rats. Most of them simultaneously expressed the CD4, CD8, and CD161α markers. In cultured T-cells of
Mcs5a
resistant congenic rats we found increased mitogen-induced proliferation and production of Th1 cytokines IFNg, IL-2, and Tumor Necrosis Factor (TNF), but not Th2 cytokines IL-4 and IL-6, or Th17 cytokine IL-17 when compared with susceptible control rats.
Conclusions
These data support a hypothesis that
Mcs5a
displays a non-mammary cell-autonomous mechanism of action to modulate breast cancer risk through the immune system. The resistant
Mcs5a
allele is associated with alterations in T-cell homeostasis and functions, and overabundance of γδTCR+ T-cells in carcinogen-exposed mammary epithelium.