01.12.2017 | Research | Ausgabe 1/2017 Open Access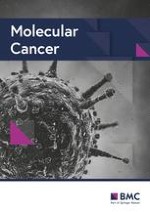 The noncoding RNA HOXD-AS1 is a critical regulator of the metastasis and apoptosis phenotype in human hepatocellular carcinoma
Zeitschrift:
Autoren:

Shan Lu, Jiansheng Zhou, Yimin Sun, Nan Li, Mingyong Miao, Binghua Jiao, Huan Chen
Wichtige Hinweise
Electronic supplementary material
The online version of this article (doi:
10.​1186/​s12943-017-0676-x
) contains supplementary material, which is available to authorized users.
Abbreviations
ARHGAP11A
Rho GTPase activating protein 11A
HCC
Human hepatocellular carcinoma
HOTAIR
Hox transcript antisense intergenic RNA
HOTTIP
HOXA transcript at the distal tip
HOXD-AS1
HOXD cluster antisense RNA 1
lncRNA-ATB
lncRNA-activated by TGF-β
lncRNA-Dreh
lncRNA downregulated expression by HBx
lncRNA-LET
lncRNA low expression in tumor
MALAT1
Metastasis-associated lung adenocarcinoma transcript-1
PVTT
Portal vein tumor thrombi
TGF-β
Transforming growth factor-β
VEGF
Vascular endothelial growth factor
Background
Methods
Clinical materials
Fifty cancerous and adjacent noncancerous specimens were obtained from patients with informed consent who underwent surgery for primary HCC at the Eastern Hepatobiliary Surgery Hospital (Shanghai, China) between 2010 and 2013. The study was approved by the Committees for the Ethical Review of Research involving Human Subjects from the Second Military Medical University. Among the patients, 27 had primary HCC lesions accompanied by intrahepatic metastasis at surgery (with tumor emboli in the major branches of the portal vein) and 23 had solitary HCC with no metastasis or recurrence during the two-year follow-up; the two groups were defined as the metastatic and non-metastatic groups. LncRNA and mRNA gene expression profiles were generated from six primary HCCs (three from the metastatic group and three from the non-metastatic group) and from the corresponding noncancerous hepatic fresh frozen tissues.
LncRNA microarray analysis
The LncRNA Human Gene Expression Microarray V4.0 (CapitalBio Corp, Beijing, China) was used. In brief, double-stranded cDNAs were synthesized, purified and eluted. Complementary RNA was synthesized from the eluted dsDNA products using a T7 Enzyme Mix. After amplification, the cDNA products were purified and labelled. Array hybridization was performed in a CapitalBio BioMixerTM II Hybridization Station overnight and washed. Slides were scanned and the microarray image information was converted into spot intensity values. The signal after background subtraction was exported directly into GeneSpring software for quartile normalization and further data analysis. We selected differentially expressed lncRNAs according to the following criteria: fold change >2 and
P
< 0.05. Hierarchical clustering analysis was employed on differentially expressed lncRNAs.
Cell culture and transfection
HCCLM3, MHCC97H, MHCC97L, SMMC7721 and L02 cells were cultured in DMEM (Biowest, Loire, France) with 10% fetal bovine serum (FBS, Biowest, Loire, France) in a humidified atmosphere containing 5% CO
2
at 37 °C. HOXD-AS1 overexpression and control pcDNA3.1 plasmids and siRNAs (GenePharma, Shanghai, China, Additional file
1
: Table S1) were transfected using Lipofectamine 2000 (Invitrogen, CA, USA) according to the manufacturer's protocols.
RNA extraction, reverse transcription and QRT-PCR
Total RNA was isolated from the prepared liver samples and cells using TRIzol reagent (Invitrogen, Carlsbad, CA, USA). Complementary DNA was synthesized following the manufacturer's protocol (MBI Fermentas, Vilnius, Lithuania). QRT-PCR was performed with a standard SYBR-green PCR kit (TOYOBO, Osaka, Japan), and gene-specific PCR amplification was performed using the ABI 7300 (Applied Biosystems, Darmstadt, Germany). The primers are listed in Additional file
1
: Table S2.
Analysis of cell motility
Cell motility was monitored using transwell and wound scratch assays. Briefly, 1 × 10 4 plasmid or siRNA-treated HCCLM3cells were added to the upper chamber and allowed to migrate through the polycarbonate membrane (8.0 μm PET, Millipore, Bedford, MA). After 24 h, the cells that had migrated to the lower chamber were fixed and stained with crystal violet. The wound scratch assay was performed using a pipette tip to scratch the cell layer 24 h after transfection, and phase contrast images of the wounds were recorded after 0 and 48 h.
MTT assay for cell proliferation
After transfection, cells were plated in 96-well plates at a density of 4 × 10 3 cells/well and incubated for the indicated times. At the end of incubation, 10 μl MTT (5 mg/mL, Sigma, USA) was added to each well, and the cells were incubated for 4 h. After staining, the samples were dissolved in DMSO, and the absorbance was recorded at 595 nm.
Colony formation assay
After treatment, cells were re-seeded in 6-well plates at a density of 500 cells/well and cultured to form nature colonies. After 10 days, the cells were washed with PBS twice and fixed with 4% paraformaldehyde for 20 min. The fixed colonies were stained by crystal purple for 10 min, photographed and counted.
Construction of stable cell lines with overexpressed HOXD-AS1 and the mouse xenograft model
To observe the effects of HOXD-AS1 overexpression on growth and metastasis in vivo, luciferase tagged cancer cells were stably infected with lentiviruses encoding HOXD-AS1 with puromycin selection. Tumor cell inoculation into the nude mice were performed as described in previously [
19
]. To investigate experimental lung metastasis or liver metastasis, the anesthetized nude mouse were inoculated with different stable cell lines by tail vein injection or intra-spleen injection. Four weeks after tail vein injection or six weeks after intra-spleen injection of HCCLM3 cells, lung metastases and liver metastases were monitored by using the IVIS@ Lumina II system. Error bars show standard deviation. For tumor growth evaluation, the skin along back of mouse is incised and injected with 1 × 10
7
tumor cells. After 4 weeks the tumors in mice were removed, photographed and determined by tumor weight and tumor volumn. The animal studies were approved by the Institutional Animal Care and Use Committee of the Second Military Medical University, Shanghai, China.
Apoptosis analysis
Apoptosis was analyzed by flow cytometry using the Annexin V-PI detection kit. After transfection, cells were treated with doxorubicin (Dox, 1 μM) for 24 h and then harvested for Annexin V-PI staining according to the manufacturer's instructions (BD Biosciences PharMingen). The double-stained cells were analyzed by flow cytometry, and the early or late apoptotic cells were measured.
Luciferase reporter assay
The 3′-UTR region of the Rho GTPase activating protein 11A (ARHGAP11A), which contains the miR-19a response element, was cloned into the pGL4.13 luciferase reporter vector to generate the luc vector. The miR-19a binding site in the luc vector was mutated to generate the luc mutant vector. To confirm the regulatory relationship between miR-19a and ARHGAP11A, miR-19a mimics, mimic NC, pcDNA3.1-HOXD-AS1, pcDNA3.1-HOXD-AS1-mut (miR-19a binding site mutation) or empty vectors were transfected into HCCLM3 cells. Forty-eight hours later, all protein extracts were analyzed using the dual luciferase reporter assay system (Promega).
Westernblot analysis
Cell samples were lysed in RIPA lysis buffer and centrifuged at 12,000 rpm at 4 °C for 15 min. Equal amounts of protein were separated on a gel and transferred to PVDF membranes (Millipore). The membranes were incubated with antibodies specific for caspase 3, caspase 9, PARP, phospho-ERK, phospho-MEK (Cell Signaling Technology, Danvers, MA, USA) and GAPDH (Epitomics, Burlingame, CA). The immunoblotting sample was incubated with horseradish peroxidase (HRP)-coupled anti-rabbit secondary antibodies (Santa Cruz, CA, USA) and visualized using enhanced chemiluminescence (Pierce, Rockford, USA).
Statistical analysis
For statistical analysis, Student's t test was used for parametric variables; chi-square test and Fisher's exact test (two-tailed) were used for nonparametric variables. Disease-free survival (DFS) in patients from The Cancer Genome Atlas (TCGA) dataset was analyzed using the Kaplan-Meier method and using the Gehan-Breslow-Wilcoxon test or the log-rank test for univariate analysis. All tests were performed at least three times, and a
P
value of less than 0.05 was considered statistically significant.
Results
Discussion
Conclusions
In summary, our investigation has presented evidence for the essential role of the lncRNA HOXD-AS1 in liver cancer progression and metastasis (Fig.
6g
). More importantly, the discovery of the HOXD-AS1/miR19a/ARHGAP11A signaling axis has provided new knowledge for understanding the molecular basis of liver cancer and for the development of new diagnostic and therapeutic strategies.
Acknowledgements
Not applicable.
Funding
This study was supported by the National Natural Science Foundation (No. 31371362, No. 81602480, No. 41576160 and No. 81570569) and the National High Technology Research and Development Program of China (863 Program, No. 2014AA093513).
Availability of data and materials
The datasets supporting the conclusions of this article are included within the article and its Additional files.
Authors' contributions
BJ and HC conceived of and designed the experiments; SL, JZ, YS and NL performed the experiments; HC and SL analyzed the data; HC, YS and BJ wrote the paper; MM and NL contributed reagents/materials/analysis tools. All authors read and approved the final manuscript. All authors discussed the results and commented on the manuscript.
Competing interests
The authors declare that they have no competing interests.
Consent for publication
Not applicable.
Ethics approval and consent to participate
The study was approved by the Committees for the Ethical Review of Research involving Human Subjects from the Second Military Medical University.
Publisher's Note
Springer Nature remains neutral with regard to jurisdictional claims in published maps and institutional affiliations.
Open Access
This article is distributed under the terms of the Creative Commons Attribution 4.0 International License (
http://​creativecommons.​org/​licenses/​by/​4.​0/​
), which permits unrestricted use, distribution, and reproduction in any medium, provided you give appropriate credit to the original author(s) and the source, provide a link to the Creative Commons license, and indicate if changes were made. The Creative Commons Public Domain Dedication waiver (
http://​creativecommons.​org/​publicdomain/​zero/​1.​0/​
) applies to the data made available in this article, unless otherwise stated.