01.12.2015 | Research article | Ausgabe 1/2015 Open Access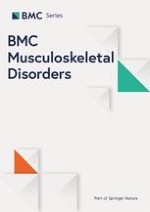 The paracrine effect of adipose-derived stem cells inhibits osteoarthritis progression
Zeitschrift:
Autoren:

Kazunari Kuroda, Tamon Kabata, Katsuhiro Hayashi, Toru Maeda, Yoshitomo Kajino, Shintaro Iwai, Kenji Fujita, Kazuhiro Hasegawa, Daisuke Inoue, Naotoshi Sugimoto, Hiroyuki Tsuchiya
Wichtige Hinweise
Competing interests
The authors declare that they have no competing interests.
Authors' contributions
KK conceived the study, conducted the experiments, analyzed the data and wrote the first draft of the manuscript. TK conceived the study, analyzed the data, and provided additional advice. KHay provided additional advice. TM, YK, SI were involved in the design of the experiments. KF, KHas and DI performed the anesthesia procedures and the administration of cells into the rabbit knee joint. NS analyzed the data, provided additional advice. HT conceived the study, provided additional advice. All authors were involved in interpretation of the results. All authors commented on and accepted the submitted manuscript. All authors read and approved the final manuscript.
Abstract
Background
This study aimed to determine whether intra-articularly injected adipose-derived stem cells (ADSCs) inhibited articular cartilage degeneration during osteoarthritis (OA) development in a rabbit anterior cruciate ligament transection (ACLT) model. The paracrine effects of ADSCs on chondrocytes were investigated using a co-culture system.
Methods
ACLT was performed on both knee joints of 12 rabbits. ADSCs were isolated from the subcutaneous adipose tissue. ADSCs with hyaluronic acid were intra-articularly injected into the left knee, and hyaluronic acid was injected into the right knee. The knees were compared macroscopically, histologically, and immunohistochemically at 8 and 12 weeks. In addition, cell viability was determined using co-culture system of ADSCs and chondrocytes.
Results
Macroscopically, osteoarthritis progression was milder in the ADSC-treated knees than in the control knees 8 weeks after ACLT. Histologically, control knees showed obvious erosions in both the medial and lateral condyles at 8 weeks, while cartilage was predominantly retained in the ADSC-treated knees. At 12 weeks, the ADSC-treated knees showed a slight suppression of cartilage degeneration, unlike the control knees.
Immunohistochemically, MMP-13 expression was less in the ADSC-treated cartilage than in the control knees. The cell viability of chondrocytes co-cultured with ADSCs was higher than that of chondrocytes cultured alone. TNF-alpha-induced apoptotic stimulation was similar between the two groups.
Conclusions
Intra-articularly injected ADSCs inhibited cartilage degeneration progression by homing to the synovium and secreting a liquid factor having chondro-protective effects such as chondrocyte proliferation and cartilage matrix protection.