01.03.2020 | Ausgabe 1/2020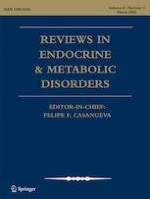 The pathogenic role of the GIP/GIPR axis in human endocrine tumors: emerging clinical mechanisms beyond diabetes
Zeitschrift:
Autoren:

Daniela Regazzo, Mattia Barbot, Carla Scaroni, Nora Albiger, Gianluca Occhi
Wichtige Hinweise
Publisher's note
Springer Nature remains neutral with regard to jurisdictional claims in published maps and institutional affiliations.
Abstract
The glucose-dependent insulinotropic polypeptide (GIP) is an incretin hormone produced in the gastrointestinal tract in response to nutrients. GIP has a variety of effects on different systems, including the potentiation of insulin secretion from pancreatic β-cells after food intake (i.e. incretin effect), which is probably the most important. GIP effects are mediated by the GIP receptor (GIPR), a G protein-coupled receptor expressed in several tissues, including islet β-cells, adipocytes, bone cells, and brain. As well as its involvement in metabolic disorders (e.g. it contributes to the impaired postprandial insulin secretion in type 2 diabetes (T2DM), and to the pathogenesis of obesity and associated insulin resistance), an inappropriate GIP/GIPR axis activation of potential diagnostic and prognostic value has been reported in several endocrine tumors in recent years. The ectopic GIPR expression seen in patients with overt Cushing syndrome and primary bilateral macronodular adrenal hyperplasia or unilateral cortisol-producing adenoma has been associated with an inverse rhythm of cortisol secretion, with low fasting morning plasma levels that increase after eating. On the other hand, most acromegalic patients with an unusual GH response to oral glucose suppression have GIPR-positive somatotropinomas, and a milder phenotype, and are more responsive to medical treatment. Neuroendocrine tumors are characterized by a strong GIPR expression that may correlate positively or inversely with the proliferative index MIB-1, and that seems an attractive target for developing novel radioligands. The main purpose of this review is to summarize the role of the GIP/GIPR axis in endocrine neoplasia, in the experimental and the clinical settings.