25.07.2017 | Original Article | Ausgabe 1/2018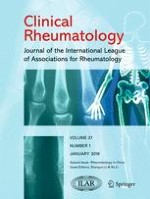 The performance of different anti-dsDNA autoantibodies assays in Chinese systemic lupus erythematosus patients
Zeitschrift:
Autoren:

Jiangfeng Zhao, Kaiwen Wang, Xiaodong Wang, Ting Li, Li Guo, Liyang Gu, Zhiwei Chen, Fangfang Sun, Haiting Wang, Jiajie Li, Jiaxian Huang, Peng Zhang, Yang Tang, Shuang Ye
Abstract
To compare the performance of different commercial anti-dsDNA autoantibody assays, including multiplex-based immunoassay (Bio-Plex), Farr radioimmunoassay (Farr), ELISA, chemiluminescent immunoassay (CLIA), and
Crithidia Luciliae
indirect immunofluorescence test (CLIFT) in Chinese patients with systemic lupus erythematosus (SLE). SLE patients (
n
= 119) as well as healthy controls (
n
= 200) and disease controls (
n
= 100) were recruited, and serum anti-dsDNA autoantibodies were detected by Bio-Plex, Farr, two ELISA assays (Medical & Biological Laboratories-ELISA, EUROIMMU-ELISA), CLIA, and a standard CLIFT. The correlation of anti-dsDNA autoantibody levels to SLE disease activity was calculated, and the specificity and sensitivity of these methods were measured by receiver-operator characteristic (ROC) curve analysis. In ROC curve analysis, Bio-Plex showed the largest area under the curve (AUC) over other assays. Cutoff adjustment according to ROC enhanced the performance of all quantitative assays. Overall, Bio-Plex and CLIFT have higher specificity (>90.00%). ELISA and CLIA results are correlated with disease activity, and Bio-Plex results have the strongest correlation with SLEDAI score and active renal involvement. Bio-Plex assay has better overall performance in anti-dsDNA detection over Farr, ELISA, and CLIA methods in Chinese SLE patients.