01.12.2012 | Hypothesis | Ausgabe 1/2012 Open Access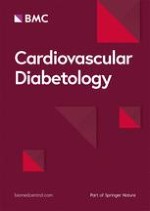 The possible role of ribosomal protein S6 kinase 4 in the senescence of endothelial progenitor cells in diabetes mellitus
Zeitschrift:
Autoren:

Zhiyong Yin, Linni Fan, Gaosheng Huang, Haichang Wang, Zhe Wang
Wichtige Hinweise
Electronic supplementary material
The online version of this article (doi:
10.​1186/​1475-2840-11-12
) contains supplementary material, which is available to authorized users.
Linni Fan contributed equally to this work.
Competing interests
The authors declare that they have no competing interests.
Authors' contributions
WH and WZ conceived the hypothesis. All authors contributed to the manuscript, and revisions were carried out by HG. All authors have read and approved the final manuscript.
Abstract
Background
The decrease and dysfunction of endothelial progenitor cells (EPCs) has been assumed as an important cause/consequence of diabetes mellitus (DM) and its complications, in which the senescence of EPCs induced by hyperglycemia may play an immensurable role. However, the mechanisms of EPCs senescence has not been fully investigated. Recently, ribosomal protein S6 kinase 4 (RSK4), a member of serine/threomine (Ser/Thr) kinase family and p53-related gene, is reported to regulate the replicative and stress-induced senescence of different cells.
Presentation of the hypothesis
These above lead to consideration of an evidence-based hypothesis that RSK4 may serve as a mediator of EPCs senescence in DM.
Testing the hypothesis
EPCs of healthy subjects and DM patients are isolated from peripheral blood and incubated with high glucose (HG). Then, the EPCs senescence would be detected by senescence associated β-galactosides (SA-β-gal) staining. Meanwhile, the RSK4 expression is assessed by RT-PCR and western blot. Moreover, overexpressing or RNA interfering of RSK4 in EPCs to investigate the relationship between RSK4 expression and the senescence of EPCs are necessary to substantiate this hypothesis. Also, studies on possible upstream and downstream factors of RSK4 would be explored to reveal the RSK4-mediated senescence pathway in EPCs.
Implications of the hypothesis
If proved, this hypothesis will provide another mediator of EPCs senescence, and may establish a novel pathogenesis for DM and further benefit to the management of DM.