09.02.2019 | Original Article | Ausgabe 5/2019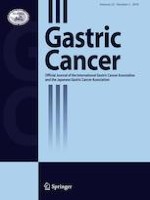 The predictive value of the preoperative C-reactive protein–albumin ratio for early recurrence and chemotherapy benefit in patients with gastric cancer after radical gastrectomy: using randomized phase III trial data
Zeitschrift:
Autoren:

Bin-bin Xu, Jun Lu, Zhi-fang Zheng, Jian-wei Xie, Jia-bin Wang, Jian-xian Lin, Qi-yue Chen, Long-long Cao, Mi Lin, Ru-hong Tu, Ze-ning Huang, Ju-li Lin, Chao-hui Zheng, Chang-ming Huang, Ping Li
Wichtige Hinweise
Electronic supplementary material
Jun Lu and Bin-bin Xu contributed equally to this work and should be considered co-first authors.
Publisher's Note
Springer Nature remains neutral with regard to jurisdictional claims in published maps and institutional affiliations.
Abstract
Background
The definition and predictors of early recurrence (ER) for gastric cancer (GC) patients after radical gastrectomy are unclear.
Methods
A minimum-
p
value approach was used to evaluate the optimal cutoff value of recurrence-free survival to determine ER and late recurrence (LR). Receiver operating characteristic curves were generated for inflammatory indices. Potential risk factors for ER were assessed with a Cox regression model. A decision curve analysis was performed to evaluate the clinical utility.
Results
A total of 401 patients recruited in a clinical trial (NCT02327481) from January 2015 to April 2016 were included in this study. The optimal length of recurrence-free survival to distinguish between ER (
n
 = 44) and LR (
n
 = 52) was 12 months. Factors associated with ER included a preoperative C-reactive protein–albumin ratio (CAR) ≥ 0.131, stage III and postoperative adjuvant chemotherapy (PAC) > 3 cycles. The risk model consisting of both the CAR and TNM stage had a higher predictive ability and better clinical utility than TNM stage alone. Further stratification analysis of the stage III patients found that for the patients with a CAR < 0.131, both PAC with 1–3 cycles (
p
 = 0.029) and > 3 cycles (
p
 < 0.001) could reduce the risk of ER. However, for patients with a CAR ≥ 0.131, a benefit was observed only if they received PAC > 3 cycles (54.2% vs 16.0%,
p
 = 0.004), rather than 1–3 cycles (58.3% vs 54.2%,
p
 = 0.824).
Conclusions
A recurrence-free interval of 12 months was found to be the optimal threshold for differentiating between ER and LR. Preoperative CAR was a promising predictor of ER and PAC response. PAC with 1–3 cycles may not exert a protective effect against ER for stage III GC patients with CAR ≥ 0.131.