01.12.2014 | Research article | Ausgabe 1/2014 Open Access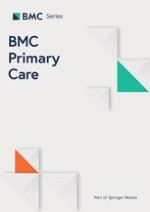 The predictors of glucose screening: the contribution of risk perception
Zeitschrift:
Autoren:

Pilar Lavielle, Niels Wacher
Wichtige Hinweise
Competing interests
The authors declare that they have no competing interests.
Authors' contributions
PL conceived of the study, performed the statistical analysis, and contributed to the writing and editing of the manuscript. NW contributed to the writing and editing of the manuscript. Both authors read and approved the final manuscript.
Abstract
Background
The prevention of type 2 diabetes is a challenge for health institutions. Periodic blood glucose screening in subjects at risk for developing diabetes may be necessary to implement preventive measures in patients prior to the manifestation of the disease and to efficiently diagnose diabetes. Not only medical aspects, but also psychological and social factors, such as the perception of risk (the individuals' judgment of the likelihood of experiencing an adverse event) influence healthy or preventive behaviors. It is still unknown if risk perception can have an effect on health behaviors aimed at reducing the risk of diabetes (glucose screening). The objective of study was to identify factors that influence glucose screening frequency.
Methods
Eight hundred randomized interviews, which were stratified by socioeconomic level, were performed in Mexico City. We evaluated the perception of risk of developing diabetes, family history, health status and socioeconomic variables and their association with glucose screening frequency.
Results
Of the study participants, 55.6% had not had their glucose levels measured in the last year, whereas 32.8% of the subjects reported having monitored their glucose levels one to three times per year and 11.5% had their levels monitored four or more times per year. Risk perception was significantly associated with the frequency of blood glucose screening. Having a first-degree relative with diabetes, being older than 45 years and belonging to a middle socioeconomic level increased the probability of subjects seeing a doctor for glucose screening.
Conclusions
Glucose screening is a complex behavior that involves the subjects' perception of threat, defined as feeling vulnerable to the development of diabetes, which is determined by the subject's environment and his previous experience with diabetes.