01.12.2018 | Research article | Ausgabe 1/2018 Open Access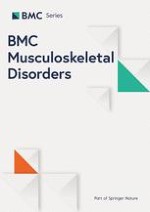 The prevalence and associated factors of symptomatic cervical Spondylosis in Chinese adults: a community-based cross-sectional study
Zeitschrift:
Autoren:

Yanwei Lv, Wei Tian, Dafang Chen, Yajun Liu, Lifang Wang, Fangfang Duan
Wichtige Hinweise
Wei Tian and Dafang Chen contributed equally to this work.
Abstract
Background
Cervical spondylosis adversely affects life quality for its heavy disease burden. The report on the community-based prevalence and associated factors of cervical spondylosis is rare, especially in Chinese population. Whether prevention is needed and how to prevent it is not clear. This study aims to explore its prevalence and related lifestyle factors and provide evidence on prevention of cervical spondylosis.
Methods
A community-based multistage cross-sectional survey of six communities from the Chinese population was conducted. A face-to-face interview was conducted to obtain individual information, and prevalence was calculated. Single-factor analysis and multivariable logistic regressions were used to explore the associated factors in total and subgroup populations.
Results
A total of 3859 adults were analyzed. The prevalence of cervical spondylosis was 13.76%, although it differed significantly among the urban, suburban, and rural populations (13.07%, 15.97%, and 12.25%, respectively). Moreover, it was higher in females than in males (16.51% vs 10.49%). The prevalence among different age groups had an inverted U shape. The highest prevalence was in the age group from 45 to 60 years old. The associated factors differed by subgroups. There were positive associations between engaging in mental work, high housework intensity, and sleep duration of less than 7 h/day with cervical spondylosis. Going to work on foot was a negative factor of cervical spondylosis in the total population. For people aged less than 30 years, keeping the same work posture for 1–2.9 h/day was a special related factor. Exposure to vibration was an associated factor for females aged 45–60 years. Menopause was a special related factor for women.
Conclusions
Prevalence of cervical spondylosis was high in Chinese population. People younger than 60 years were the focus of prevention for cervical spondylosis. Moreover, the characters between male and female and among different age groups were different and required targeted interventions.