04.06.2020 | Systematic Review | Ausgabe 8/2020 Open Access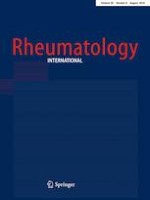 The prevalence and impact of depression in primary systemic vasculitis: a systematic review and meta-analysis
Zeitschrift:
Autoren:

Bradley Pittam, Sonal Gupta, Ashar E. Ahmed, David M. Hughes, Sizheng Steven Zhao
Wichtige Hinweise
Electronic supplementary material
Bradley Pittam and Sonal Gupta are joint first authors.
Publisher's Note
Springer Nature remains neutral with regard to jurisdictional claims in published maps and institutional affiliations.
Introduction
Primary systemic vasculitides (PSV) are a group of rare, chronic diseases characterised by inflammation of the blood vessels [
1
]. They can affect vessels of various size and type, with potential for irreversible organ damage and death
.
Advances in treatment have improved both morbidity and mortality [
2
]. However, treatment regimens can be intense and are often accompanied by significant adverse effects. For example, glucocorticoids are known to increase the risk of a host of comorbidities from osteoporotic fractures to mood disturbances [
3
]. Long-term management can involve polypharmacy and a demanding schedule of follow-up with multiple specialties. The potential for unpredictable, organ or life-threatening relapses will also create significant psychological stresses. These factors can disrupt the life course with consequences on quality of life and mental health.
Priorities in follow-up clinics are often related to preserving life and organ function, reducing symptoms and managing physical comorbidities [
4
]. PSV research mostly reflects these clinical considerations, while mental health—a vital contributor to quality of life—can often be overlooked. Depression is more common in people with chronic disease than the general population [
5
]. It is associated with poorer outcomes in other rheumatic disease [
6
,
7
]. Depression also has the potential to directly impact PSV management, for example, through effects on treatment adherence [
8
]. Improving our understanding of depression in the context of vasculitis management is, therefore, essential to facilitate patient engagement and partnership.
Despite the compelling reasons to study depression in vasculitis, research in this area are scarce and heterogenous. In this systematic review, our aims were to (1) describe the prevalence of depression among patients with PSV, (2) compare prevalence according to vasculitis type and against controls, and (3) examine the impact of depression on PSV outcomes.
Methods
Results
The searched returned a total of 2508 publications. After deduplication, screening, and full-text assessment, 17 met eligibility criteria (15 for prevalence, and 2 additionally for the impact of depression). A flowchart of the selection process is shown in Supplementary Figure S1.
Discussion
Depression was highly prevalent among patients with primary systemic vasculitides. Around 1 in 4 of those with either small or large vessel disease had depression, with no significant difference in meta-analysis estimates between the two groups. The prevalence of depression in small vessel vasculitis was higher than healthy controls. In these patients, depression and depressive symptoms were associated with poorer quality of life, illness perception, adherence, work disability, fatigue, pain, and sleep, but not disease activity or damage.
Pooled prevalence estimates for depression in PSV were higher than reported for rheumatoid arthritis (17% [
30
]), psoriatic arthritis (14% [
31
]) and ankylosing spondylitis (15% [
6
]). This may reflect the intensity of induction therapy or the severity of systemic inflammation, although most studies recruited stable patients in remission. It may also be explained by disruptions to the life course as a result of intensive follow-up, psychological stress from the multiorgan-threatening potential of unpredictable relapses, or higher cumulative doses of glucocorticoids. In systemic lupus erythematosus, where long-term glucocorticoids are also used, the prevalence of depression was reported to be 30–39% [
32
]. Glucocorticoids have well-known psychiatric side effects, but they also reduce inflammation which has been hypothesised to contribute to depressive symptoms [
3
,
33
]. Hinojosa-Azaola et al. reported nearly sevenfold higher odds of requiring prednisolone ≥ 10 mg/day among those with depression [
27
]. This was replicated in the study by Koutantji et al. [
16
], but not Hajj-Ali et al. [
13
]. Patients with PSV are at risk of complications and comorbidities from the disease or its treatment. However, the only study of vasculitis disease activity and damage did not report an association with depression [
13
]. This may be because study samples were of patients with relatively low levels of disease activity and damage.
Depression was associated with poorer outcomes across a range of measures. Of most concern is the link between depression and poor adherence. This association is well documented in a variety of chronic diseases [
34
]. Symptoms of depression, including deficits in cognition, energy and motivation, and feelings of hopelessness, may contribute. Successful PSV management requires good adherence to maintenance therapy and engagement with healthcare services; therefore, it is imperative to address depression or depressive symptoms to optimise vasculitis management. Future studies should evaluate disease activity and other treatment outcomes in those with and without depression to quantify its impact. This may support the case for targeted screening and provision of mental health services. Some centres already offer parallel psychology services for vasculitis patients [
35
].
In patients with rheumatic conditions, depression remains underdiagnosed and under-treated [
36
]. This represents an area of unmet care need. Management of rheumatic diseases has evolved significantly over the last few decades, with the development of protocolised, target-driven disease management pathways. As a result, patient-encounters have become more pressured with less time to take an exhaustive history or perform a holistic assessment. Any assessment aids designed to promptly highlight the psychological aspects of rheumatic illness in a busy clinical environment should be considered for use. For example, it has been demonstrated that presenting patients with a checklist of potential concerns in the form of a 'patient concerns inventory (PCI)' prompted more discussion about various psychological aspects of illness, in comparison with the traditional consultation model [
37
]. While the PCI is a novel concept, there are several validated assessment tools to detect depression in a clinical setting including questionnaires cited in this review that could be incorporated into routine clinical practice.
A key strength of this review was the broad range of vasculitides considered. We were able to compare prevalence according to vessel size, as well as among subtypes. However, meta-analysis was limited by the small number of studies available and the variable definitions used for depression and vasculitis. Varying methods of assessing and defining depression could contribute to the high level of heterogeneity; for example, self-report may over-estimate prevalence, whereas diagnostic coding may under-estimate. Questionnaires also have differential sensitivity and specificity in detecting depression of various severity. The prevalence and impact of depression may be under-estimated among follow-up patients since those with severe depression are more likely to become lost to follow-up. Future studies would benefit from describing other related mental health diagnoses such as anxiety and suicidal intent. Depression is just one aspect of a well-recognised "symptom cluster". These symptoms rarely occur in isolation and may share the same underlying mechanisms. Future studies should also address the impact of fatigue, sleep disturbance and fibromyalgia. As mortality outcomes continue to improve, quality of life becomes the most important outcome for these long-term conditions. Therefore, clinicians should actively seek and address these symptoms that are significant contributors to impaired health status.
In conclusion, depression is highly prevalent among patients with primary systemic vasculitis—higher than health controls and meta-analysis estimates from inflammatory arthritides. Pooled estimates were similar for small and large vessel disease. Depression was associated with poorer outcomes across a range of measures. However, these findings were mostly in small-vessel vasculitides and more studies are needed for medium and large vessel disease.
Compliance with ethical standards
Conflict of interest
The authors declare no conflicts of interest.
Open Access
This article is licensed under a Creative Commons Attribution 4.0 International License, which permits use, sharing, adaptation, distribution and reproduction in any medium or format, as long as you give appropriate credit to the original author(s) and the source, provide a link to the Creative Commons licence, and indicate if changes were made. The images or other third party material in this article are included in the article's Creative Commons licence, unless indicated otherwise in a credit line to the material. If material is not included in the article's Creative Commons licence and your intended use is not permitted by statutory regulation or exceeds the permitted use, you will need to obtain permission directly from the copyright holder. To view a copy of this licence, visit
http://​creativecommons.​org/​licenses/​by/​4.​0/​
.
Electronic supplementary material
Below is the link to the electronic supplementary material.
Publisher's Note
Springer Nature remains neutral with regard to jurisdictional claims in published maps and institutional affiliations.