01.12.2015 | Research article | Ausgabe 1/2015 Open Access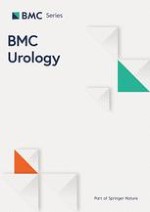 The prevalence and outcomes of pT0 disease after neoadjuvant hormonal therapy and radical prostatectomy in high-risk prostate cancer
Zeitschrift:
Autoren:

Jae Young Joung, Jeong Eun Kim, Sung Han Kim, Ho Kyung Seo, Jinsoo Chung, Weon Seo Park, Eun Kyung Hong, Kang Hyun Lee
Wichtige Hinweise
Competing interests
The authors declare that they have no competing interests.
Authors' contributions
JYJ designed the study and wrote the manuscript. SHK participated in the study design. JEK helped to draft the manuscript. SHK did statistical analysis for the clinical factors of the patients. JEK managed and analyzed the raw data of the characteristics of the patients. WSP helped to design the study and draft the manuscript. JYJ and HKS analyzed the reference data. KHL and JC designed and supervised the study. JEK and EKH reviewed the previous data. All authors read and approved the final manuscript.
Abstract
Background
To identify the prevalence and clinical outcomes of pT0 disease following neoadjuvant hormonal therapy (NHT) and radical prostatectomy (RP) in high-risk prostate cancer.
Methods
We retrospectively included 111 patients who had received NHT and RP for the treatment of high-risk prostate cancer. We classified the patients into two groups, the pT0 group and the non-pT0 group, depending on whether a residual tumor was observed.
Results
We identified 6 cases (5.4 %) with pT0 disease after reviewing the slides of all patients. There was no recurrence of disease in the pT0 group during a median follow-up of 59 months. Among the 105 patients in the non-pT0 group, biochemical recurrence (BCR) developed in 60 patients (57.1 %), with the median time to BCR being 14 months.
Conclusions
Among the 111 patients with high-risk prostate cancer, we found 6 cases that showed a complete pathological response after NHT and no recurrence of disease during the follow-up, meaning that the androgen deprivation therapy could potentially eradicate high-risk prostate cancer. This is one of the largest studies demonstrating the prevalence of pT0 disease and its outcomes after NHT among patients with high-risk prostate cancer.