01.12.2018 | Research article | Ausgabe 1/2018 Open Access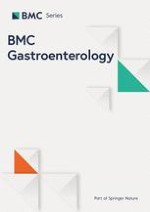 The prevalence and phenotype in Brazilian patients with inflammatory bowel disease
Zeitschrift:
Autoren:

Adalberta Lima Martins, Rhaisa Almeida Volpato, Maria da Penha Zago-Gomes
Abstract
Background
The epidemiology of inflammatory bowel disease (IBD) varies in different countries. This study aimed to assess phenotype, medications, prevalence and incidence of IBD in the State of Espírito Santo, Brazil.
Methods
Patients with IBD who utilized the Public Medication-Dispensing System of the Department of Health of Espírito Santo, between August 2012 and July 2014. Of 1484 active patients, 1048 were analyzed, which included patients of all ages.
Results
The prevalence of IBD was 38.2 per 100,000 inhabitants, with ulcerative colitis (UC) being 24.1 per 100,000 and Crohn's disease (CD), 14.1 per 100,000. The incidence of IBD was 7.7 per 100,000 inhabitants/year (UC – 5.3/100,000 inhabitants/year and CD – 2.4/100,000 inhabitants/year). Out of the 1048 patients analyzed, 669 had UC (63.84%), 357 had CD (34.06%), and 22 had unclassified inflammatory bowel disease (UIBD; 2.10%). There were 48/1048 (4.5%) pediatric patients (16 years of age or younger). On the UC phenotype (
n
 = 654), we observed left-sided colitis in 247 (37.7%), pancolitis in 209 (31.9%), and proctitis in 198 patients (30.2%). Pancolitis was more frequent in pediatric patients (
p
 = 0.007). CD showed a homogeneous distribution between ileitis (L1), colitis (L2), and ileocolitis (L3). Regarding the CD behavior (
n
 = 352) observed the inflammatory type (B1) in 176 (50%); fistulizing (B3) in 75 (21.2%), isolated type (B3) in 29 (8.2%), and perianal fistulizing type (B3p) in 46 (13.1%). Biologic therapies were used in 154/357 (43.3%).
Conclusion
The prevalence of the IBD in the state of Espírito Santo, Brazil was higher than in two other brazilian studies. There was high utilization of biologic therapies in patients with CD.