01.12.2018 | Research article | Ausgabe 1/2018 Open Access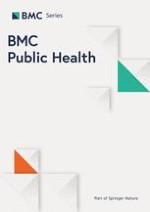 The prevalence of and factors associated with willingness to utilize HTC service among college students in China
Zeitschrift:
Autoren:

Guochen Fu, Yulin Shi, Yongfu Yan, Yajie Li, Jing Han, Guosheng Li, Ruyi Lin, Yuning Wang, Zihan Fu, Qingxin Gong, Yuhang Gan, Jiaxing Wei, Junfang Wang
Abstract
Background
College students in China are emerging as one of the most vulnerable groups to contract HIV, because they are in a sexually active age group and also because of their open attitude toward sex and high risk sexual behaviors. This study aimed to explore the prevalence of willingness among college students to utilize HIV testing and counseling (HTC) service and the factors that may affect willingness, including predisposing, enabling and need factors, based on the Andersen's behavioral model.
Methods
A cross-sectional study was conducted from October 6, 2016 to December 31, 2016 in Hubei University of Science and Technology in China. After signing informed consent, college students completed a self-designed online questionnaire distributed via
https://​www.​wjx.​cn/​
voluntarily, anonymously and confidentially. Pearson's chi-square test and Logistic regression models were chosen to analyze the factors associated with willingness to utilize HTC service.
Results
Out of 3314 college students in the sample, 2583 (77.9%) expressed their willingness to utilize HTC service. After adjustment, those with low levels of discrimination towards people living with HIV (PLHIV) (OR = 1.41, 95%CI:1.17–1.68), being more knowledgeable about free HTC service centers (OR = 1.44, 95%CI:1.17–1.77), having recognized the necessity to provide HTC service in the local university (OR = 2.20, 95%CI:1.73–2.80), and having a higher HIV risk perception (OR = 1.64, 95%CI:1.37–1.95) were more willing to utilize HTC service, compared with their respective counterparts.
Conclusions
In order to improve their willingness to utilize HTC service and finally to achieve the goal of zero-AIDS, a comprehensive intervention measure should be taken to publicize HTC service, eliminate stigma and discrimination against PLHIV, recruit and train peer volunteers to serve in the local university, and increase self-perceived risk of HIV infection.