01.12.2015 | Research article | Ausgabe 1/2015 Open Access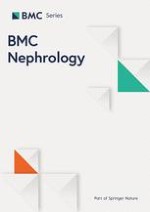 The prevalence of occult hepatitis B virus (hbv) infection in a large multi-ethnic haemodialysis cohort
Zeitschrift:
Autoren:

Luciana Sowole, Wendy Labbett, Mauli Patel, Aisling O'Riordan, Jennifer Cross, Andrew Davenport, Tanzina Haque
Wichtige Hinweise
Competing interests
The authors declare that they have no competing interests.
Authors' contributions
TH, JC and AD proposed the project. TH designed and led the project. LS collected clinical and laboratory data. TH and LS analysed the data. WL and MP carried out laboratory tests. AO'R advised on the project. Statistical analysis was by TH and LS. LS wrote the first draft and all authors read and approved final draft.
Abstract
Background
Haemodialysis patients are at increased risk of exposure to blood borne viruses. To reduce transmission in the UK, all haemodialysis patients are regularly screened, and if susceptible to Hepatitis B virus (HBV) infection, vaccinated.
Methods
This retrospective study was undertaken to determine the HBV immune status in a large dialysis cohort and the prevalence of occult HBV infection, defined as the presence of anti-HBcore antibody (anti-HBcAb) and HBV DNA without detectable HB surface antigen (HBsAg). Information on HBV status was retrieved from haemodialysis patients under the care of The Royal Free Hospital, London, UK between 2009–2010. Available sera from 138 of 161 anti-HBcAb positive/HBsAg negative individuals were anonymised and tested for HBV DNA by a real time quantitative PCR.
Results
15 (2%) of 793 patients had chronic HBV infection (HBsAg positive). 161 (20%) were anti-HBcAb positive but HBsAg negative suggesting past infection. 335 (54%) of the remaining 617 patients were considered immune following vaccination (anti-HBsAb > 10 IU/L). Three (2.2%) of the 138 anti-HBcAb positive, HBsAg negative patients had detectable HBV DNA (3, 5 and 9 IU/ml). Standard liver function tests were normal in these patients.
Conclusions
In a large multi-ethnic London haemodialysis cohort, 20% patients had evidence of past HBV infection. Despite this, the prevalence of occult HBV was found to be low and the very low levels of HBV DNA detected are unlikely to pose a nosocomial transmission risk in the presence of robust vaccination and infection control measures.