01.12.2015 | Research article | Ausgabe 1/2015 Open Access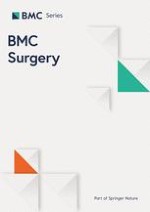 The preventive surgical site infection bundle in patients with colorectal perforation
Zeitschrift:
Autoren:

Takehito Yamamoto, Takeshi Morimoto, Ryosuke Kita, Hideyuki Masui, Hiromitsu Kinoshita, Yusuke Sakamoto, Kazuyuki Okada, Junji Komori, Akira Miki, Masato Kondo, Kenji Uryuhara, Hiroyuki Kobayashi, Hiroki Hashida, Satoshi Kaihara, Ryo Hosotani
Wichtige Hinweise
Competing interests
The authors declare that they have no competing interests.
Authors' contributions
TY designed the study, acquired the data, analyzed and interpreted the data, and drafted and revised the manuscript. TM offered statistical advice. HK helped to acquire the data. RK, HM, HK, and YS revised the result section and helped to conduct statistical analysis. KO, JK, and AM revised the materials and methods section and helped to describe the "diagnosis" paragraph. MK, KU, HH, helped to form the tables and figures. SK, and RH helped to describe the introduction and discussion section. All authors read and approved the final manuscript.
Abstract
Background
Incisional surgical site infection (SSI) is one of the most frequent complications that occur after colorectal surgery. Surgery for colorectal perforation carries an especially high risk of incisional SSI because fecal ascites contaminates the incision intraoperatively, and in patients who underwent stoma creation, the incision is located near the infective origin and is subject to infection postoperatively. Although effectiveness of the preventive SSI bundle of elective colorectal surgery has been reported, no study has focused exclusively on emergency surgery for colorectal perforation.
Methods
Patients with colorectal perforation who underwent emergency surgery and stoma creation from 2010 to 2015 at our center were consecutively enrolled in the study. In March 2013, we developed the preventive incisional SSI bundle for patients with colorectal perforation undergoing stoma creation. The effectiveness of the bundle in these patients was determined and the rates of incisional SSI between before and after March 2013 were compared.
Results
We enrolled 108 patients with colorectal perforation who underwent emergency operation during the study period. Thirteen patients were excluded because they died within 30 days after surgery, and 23 patients without stoma were excluded; thus, 72 patients were analyzed. There were 47 patients in the pre-implementation group and 25 patients in the post-implementation group. The rate of incisional SSI was significantly lower after implementation of preventive incisional SSI bundle (43 % vs. 20 %,
p
 = 0.049). Postoperative hospital stay was significantly shorter after implementation of the bundle (27 vs. 18 days respectively;
p
 = 0.008).
Conclusions
The preventive incisional SSI bundle was effective in preventing incisional SSI in patients with colorectal perforation undergoing emergency surgery with stoma creation.