01.07.2011 | Gynecologic Oncology | Ausgabe 1/2011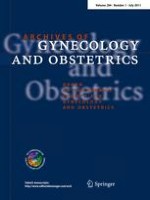 The prognostic and predictive value of CA-125 regression during neoadjuvant chemotherapy for advanced ovarian or primary peritoneal carcinoma
Zeitschrift:
Autoren:

Naveen S. Vasudev, Ioannis Trigonis, David A. Cairns, Geoff D. Hall, David P. Jackson, Timothy Broadhead, John Buxton, Richard Hutson, David Nugent, Timothy J. Perren
Wichtige Hinweise
N. S. Vasudev and I. Trigonis have joint first authorship.
Abstract
Purpose
To assess the significance of CA-125 regression as a prognostic indicator and predictor of optimal cytoreduction at interval debulking surgery (IDS) in women with ovarian or primary peritoneal carcinoma receiving neoadjuvant chemotherapy (NAC).
Methods
63 women treated between 2004 and 2007 with neoadjuvant platinum-based chemotherapy followed by IDS were studied retrospectively. Pre-operative CA-125 values were used to calculate a regression coefficient (CA-125r) using exponential regression analysis. Outcome endpoints were overall survival (OS), time to CA-125 progression (TTC) by Rustin criteria and time to second-line treatment (TTS).
Results
Women with a CA-125 half-life greater than 18 days had a significantly worse OS compared to those with a half-life less than 12 days on univariate testing (HR 3.34, 95% CI 1.25–8.94,
p
= 0.017). On multivariable analysis, CA-125r was an independent predictor of OS [HR 1.18 (per 0.01 increase in CA-125r), 95% CI 1.01–1.40,
p
= 0.043]. CA-125r was independently predictive of TTC and TTS (HR 1.17,
p
≈ 0.03 for each). CA-125r was also predictive of achieving optimal cytoreduction at IDS (AUC 0.756,
p
< 0.001).
Conclusions
CA-125 regression rate during pre-operative NAC is of independent prognostic value. CA-125 regression rate strongly predicts for optimal cytoreduction.