01.12.2015 | Research article | Ausgabe 1/2015 Open Access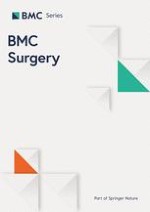 The prognostic influence of intrapancreatic tumor location on survival after resection of pancreatic ductal adenocarcinoma
Zeitschrift:
Autoren:

Dietrich A. Ruess, Frank Makowiec, Sophia Chikhladze, Olivia Sick, Hartwig Riediger, Ulrich T. Hopt, Uwe A. Wittel
Wichtige Hinweise
Competing interests
No funding was received for this study. The authors declare no conflict of interest.
Authors' contributions
DAR interpreted data and drafted the manuscript. FM carried out data analysis, helped to interpret data and to draft the manuscript. OS performed data collection and administration. UAW conceived the study, participated in interpretation of data and assisted in drafting the manuscript. SC, HR and UTH revised critically and approved the final manuscript. All authors read and approved the final manuscript.
Abstract
Background
The prognosis of pancreatic ductal adenocarcinoma (PDAC) is worse when the tumor is located in the pancreatic body or tail, compared to being located in the pancreatic head. However, for localized, resectable tumors survival seems to be at least similar.
Methods
We analyzed and compared the outcome after pancreatoduodenectomy (PD) and distal pancreatectomy (DP) for PDAC at our institution. Clinical, pathological and survival data from patients undergoing pancreatic resection for PDAC 1994–2014 were explored retrospectively, accessing a prospective pancreatic database. Patients receiving primary total pancreatectomy were excluded.
Results
Four hundred and thirteen patients were treated for PDAC: 347 (84 %) underwent PD and 66 (16 %) DP. Tumors located in the pancreatic body and tail were significantly larger than their counterparts located in the head (30.6 mm vs. 41.2 mm;
p
 < 0.001). However, distal tumors had significantly less nodal involvement (71 % vs. 57 %;
p
 = 0.03). Portal-vein resection (PVR) was performed more often in PD, multivisceral resection (MVR) was more frequent in DP (37 % vs. 14 % and 4 % vs. 29 %;
p
 < 0.001). Rates for negative resection margins and tumor grading were similar. Postoperative complication rates including morbidity, rates of re-operation and mortality were comparable. Long-term outcome revealed no significant difference between PD and DP with 5-year survival rates of 17.8 and 22 % respectively (
p
 = 0.284). Multivariate analysis confirmed positive resection margin, positive nodal status, extended resection (PVR, MVR) and lack of adjuvant/additive chemotherapy as independent risk factors for poor survival after pancreatic resection.
Conclusion
Patients with resectable pancreatic ductal adenocarcinoma located in the body and tail of the pancreas display a similar postoperative oncological outcome despite larger tumors when compared to patients with resectable tumors located in the pancreatic head.