13.03.2020 | Original Contributions | Ausgabe 7/2020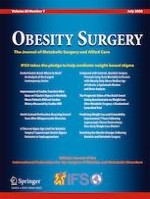 The Prognostic Value of the Dutch Sweet Eating Questionnaire on Weight Loss After Metabolic Surgery: a Randomized Controlled Trial
Zeitschrift:
Autoren:

L. U. Biter, M. Leeman, I. Friskes, M. der Kinderen, J. A. Apers, M. Dunkelgrun, J. F. Zengerink, J. F. Smulders
Wichtige Hinweise
L. U. Biter and M. Leeman contributed equally to this work.
Publisher's Note
Springer Nature remains neutral with regard to jurisdictional claims in published maps and institutional affiliations.
Abstract
Background
Laparoscopic Roux-en-Y gastric bypass (LRYGB) and laparoscopic sleeve gastrectomy (LSG) have shown different weight loss results. These differences might be partly due to dumping after LRYGB, forcing sweet eaters to switch to a healthy diet. The Dutch Sweet Eating Questionnaire (DSEQ) is validated to measure sweet eating. This study aims to investigate if sweet eating measured with the DSEQ influences weight loss.
Methods
In this multicenter randomized controlled trial, patients were included between 2013 and 2017 in two Dutch high-volume hospitals, and randomized with a 1:1 ratio between LRYGB and LSG. Primary outcome measure was weight loss. Secondary outcome measure was sweet eating behavior, measured with the DSEQ. Data was collected at baseline, 1 year and 2 years postoperatively.
Results
Data was analyzed of 623 patients who underwent LRYGB (
n
 = 308; 49.4%) or LSG (
n
 = 315; 50.6%). Follow-up rates at 2 years postoperative were 67.1% for weight and 35.3% for DSEQ. At 2 years postoperative, mean BMI was significantly higher after LSG than LRYGB (respectively 30.88 versus 28.87 kg/m
2
,
p
 < 0.001), and the percentage of sweet eaters was significantly higher after LSG than LRYGB (respectively 8.6% versus 2.6%,
p
 = 0.049). None of the preoperative sweet eaters were sweet eaters 2 years after LRYGB (0.0%), versus 11.8% 2 years after LSG. No correlation was found between postoperative sweet eating behavior and %EBMIL.
Conclusion
No significant correlation was found between preoperative or postoperative sweet eating measured with the DSEQ and weight loss. The decision-making for the procedure type is more complex than weight loss and dietary habits, and should also involve quality of life and presence of comorbidities. These factors should be addressed in future research along with longer term results.
Trial Registration
Dutch Trial Register NTR-4741