27.09.2016 | Original Research | Ausgabe 4/2016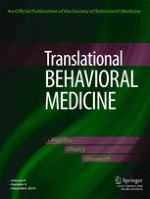 The promise of wearable sensors and ecological momentary assessment measures for dynamical systems modeling in adolescents: a feasibility and acceptability study
Zeitschrift:
Autoren:

M.S. Erin E. Brannon, Ph.D. Christopher C. Cushing, Ph.D. Christopher J. Crick, M.S. Tarrah B. Mitchell
Wichtige Hinweise
Implications
Practice:
Tools that have the capacity to capture physiology, behavior, and psychosocial processes in nearly real time are feasible and acceptable to adolescents given minimal cost and can help to streamline clinical encounters and interventions.
Policy:
Efforts to increase collaboration among health psychologists, tech developers, and government agencies may facilitate the development of just-in-time interventions to target health behavior change.
Research:
In order to move beyond the current established areas of assessment, research should examine the dynamic relationships between physiology, behavior, and psychosocial processes in nearly real time.
Abstract
Intervention development can be accelerated by using wearable sensors and ecological momentary assessment (EMA) to study how behaviors change within a person. The purpose of this study was to determine the feasibility and acceptability of a novel, intensive EMA method for assessing physiology, behavior, and psychosocial variables utilizing two objective sensors and a mobile application (app). Adolescents (
n
= 20) enrolled in a 20-day EMA protocol. Participants wore a physiological monitor and an accelerometer that measured sleep and physical activity and completed four surveys per day on an app. Participants provided approximately 81 % of the expected survey data. Participants were compliant to the wrist-worn accelerometer (75.3 %), which is a feasible measurement of physical activity/sleep (74.1 % complete data). The data capture (47.8 %) and compliance (70.28 %) with the physiological monitor were lower than other study variables. The findings support the use of an intensive assessment protocol to study real-time relationships between biopsychosocial variables and health behaviors.