01.12.2017 | Research | Ausgabe 1/2017 Open Access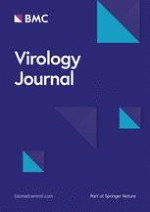 The proposed new species, cacao red vein virus, and three previously recognized badnavirus species are associated with cacao swollen shoot disease
Zeitschrift:
Autoren:

Nomatter Chingandu, Koffie Kouakou, Romain Aka, George Ameyaw, Osman A. Gutierrez, Hans-Werner Herrmann, Judith K. Brown
Wichtige Hinweise
Electronic supplementary material
Abbreviations
CDD
Conserved domain database
CSSCDV
Cacao swollen shoot CD
(Cote d'Ivoire)
virus
CSSD
Cacao swollen shoot disease
CSSTAV
Cacao swollen shoot Togo A virus
CSSV
Cacao swollen shoot virus
CYVBV
Cacao yellow vein-banding virus
DUF
Domain of unknown function
ICTV
International committee on taxonomy of viruses
RCA
Rolling circle amplification
SDT
Sequence demarcation tool
Background
The
Theobroma cacao
(L.) tree, or cacao, is the source of the chocolate bean. The species is endemic to the Amazon Basin in South America and was introduced into West Africa during the 1880's [
1
], where 70% of the world's bulk cocoa supply is now produced. Soon after commercial cacao plantations were established, virus-like symptoms were reported in cacao trees consisting of foliar vein-banding, swellings on vegetative shoots (chupons), and reduced pod size, pod number, and quality of beans [
2
,
3
]. Three to five years post-symptom development, infected trees decline and eventually die [
4
,
5
]. Graft transmission was reported by Steven in 1936 [
3
], leading to the hypothesis that the swollen shoot disease was caused by a plant virus, endemic to West Africa, referred to as
Cacao swollen shoot virus
(CSSV) [
4
,
6
]. The virus is transmitted in a semi-persistent manner by 14 mealybug species [
7
], and is not known to be seed-transmitted in cacao [
8
]. Efforts to develop virus-resistant cacao genotypes have been largely unsuccessful, and so over time, crop losses have been substantial in Cote d'Ivoire [
9
,
10
], Ghana [
11
–
13
], Nigeria [
14
,
15
], Sierra Leone [
16
], and Togo [
17
,
18
]. Until now, CSSV and two other cacao-infecting virus species,
Cacao swollen shoot CD virus
(CSSCDV), and
Cacao swollen shoot Togo A virus
(CSSTAV), have been associated with cacao swollen shoot disease (CSSD) [
19
], and are members of the genus
Badnavirus
(family,
Caulimoviridae
) [
20
–
23
], also referred to as pararetroviruses.
Badnaviruses have a circular, double-stranded DNA genome 7.0–9.2 kilobase pairs (kbp) in size, encapsidated in a non-enveloped bacilliform particle [
22
,
23
]. Replication occurs by a viral-encoded reverse transcriptase (RT), and proceeds through an RNA intermediate [
24
]. The three CSSD-associated genomes encode four to six open reading frames (ORFs), referred to as ORFs 1–4, X, and Y [
10
,
25
]. The precise function of the badnaviral 16 kDa ORF1 protein is not known. The ORF2 encodes a 15 kDa protein with DNA and RNA binding activity [
26
], and ORF3 encodes a ~212 kDa polyprotein containing several domains that are cleaved to release a functional movement protein (MP), coat protein (CP), aspartic protease (AP), and the RT and ribonuclease H (RNase H) proteins. The ORFs 4, X, and Y, which overlap ORF3, encode 95, 13, and 14 kDa proteins, respectively, all of unknown function [
10
,
27
].
During the early 2000's to the present, characteristic leaf and shoot swelling CSSD symptoms, accompanied by rapid tree decline and death about one year after the occurrence of initial foliar symptoms, have been observed in a portion of the trees growing in commercial plantations located in western Ghana and eastern Cote d'Ivoire [25; authors' personal observations]. Concurrently, previously reliable serological and several polymerase chain reaction (PCR) amplifications failed to detect virus in 40–60% of samples, despite presence of CSSD-like symptoms [
2
,
18
,
28
,
29
]. Also, primers designed to amplify a hypervariable region of the viral MP (located on ORF3), referred to as the 'ORF3A' primers, reported to distinguish nine CSSD-badnavirus variants, collectively failed to detect virus in 25–50% of samples from Cote d'Ivoire and Ghana [
10
,
18
,
28
,
30
]. Even though this MP locus is not phylogenetically informative at the species level [
20
], the region is informative of extensive intraspecific variability. Similarly, in a recent study of 124 field isolates from Cote d'Ivoire, only half of the samples were positive for CSSD badnavirus infection by PCR amplification [
31
]. The primers were designed based on the seven CSSD-associated genome sequences from Cote d'Ivoire, Ghana and Togo available in GenBank, to direct amplification of CP, MP, RNase H, RT, and non-coding region fragments. While one or more primer pairs amplified badnavirus amplicon(s), confirmed as badnavirus by DNA sequencing, overall ~50% of symptomatic leaf and shoot samples yielded no PCR product, indicating greater than expected genomic variability among CSSD badnaviruses [
28
]. Until now, there has been no systematic study of the extent of genomic variability of CSSD badnaviruses in West Africa.
The lack of sufficient representative full-length CSSD-associated genome sequences has precluded a reconciliation of evolutionary and epidemiological information required to inform disease management practices. The objective of this study was to better understand the extent of genomic variability of CSSD-badnaviruses in Cote d'Ivoire and Ghana associated with swollen shoot symptoms, including the recently observed 'rapid decline' phenotype. Here, a genomic pathology approach was taken utilizing Illumina Hi-Seq DNA sequencing for 'virome discovery', and validation by PCR amplification with virus-specific primers and Sanger DNA sequencing. The 14 apparently full-length genomes were characterized with respect to pairwise nucleotide (nt) identity, phylogenetic relationships, genome organization, and conserved protein domain architecture, in relation to the seven previously reported CSSD-badnaviral genome sequences from Ghana, Cote d'Ivoire and Togo.
Methods
Results
Discussion
In this study, 14 full-length badnavirus genome sequences were determined by Illumina 'virome discovery', and confirmed by Sanger DNA sequencing of cloned, PCR amplicons. In all instances, the badnaviral genome sequences were obtained from leaf samples collected from cacao trees exhibiting foliar discoloration and swollen shoot symptoms, whereas, several of the trees also showed atypical symptoms consisting of accelerated tree decline, and rapid death. Although speculative, the latter symptoms are reminiscent of rapid necrosis and death, often associated with hypersensitive-like responses to pathogen infection.
Phylogenetic comparisons of all available badnaviral genome sequences, including the genome sequences determined in this study, indicated that CSSD-badnaviral genomes are more closely related to each other than to other known badnaviruses, based on the tight affiliation as a 'sister clade', in relation to other badnaviruses. This suggests that all CSSD-associated badnavirus species known thus far to cause swollen shoot disease share a common ancestor(s), providing robust support for West African endemism, and for the region as the center of CSSD- badnaviral diversification.
Conclusions
This is the first discovery of CRVV, a previously undescribed badnavirus species infecting cacao trees in West Africa, represented thus far, by two isolates each from Ghana and Cote d'Ivoire. The CRVV-isolates were collected from locations where the first swollen shoot 'rapid decline and death' outbreaks were observed during 2000–2003. This is suggestive of a potential link between CRVV distribution, and the locations where the onset of rapid tree decline and death were observed within one year after foliar and swollen shoot symptom development. Although CRVV is the suspect causal agent of the rapid decline and death syndrome, Koch's Postulates have not been proven, thus, urgent studies are now required to test this hypothesis. In addition, the phylogenetic analysis of all available cacao-associated genome sequences indicated that certain CSSV isolates in Ghana, which have been historically referred to as 'severe strains' of CSSV because of the debilitating symptoms they cause, are distinct from CRVV, albeit, it is important to note that CRVV and CSSV occupy an overlapping geographical range. This knowledge, together with additional, intensive CSSD surveillance using Next Generation DNA sequencing to facilitate genomic pathology studies of West African cacao plantations and suspect endemic host reservoirs, is expected to provide a data-rich resource with far-reaching applications, including the development and use of field and laboratory diagnostics to gain new insights into epidemiological and viral-host evolutionary dynamics, and provide vital assistance to breeding programs developing durable badnavirus-resistant cacao for long-term management.
Acknowledgements
We gratefully acknowledge funding for this project from the USDA-ARS through the Specific Cooperative Agreement #6038-21000-023-07 titled: Development and Optimization of Molecular Diagnostics Method for Qualitative and Quantitative Detection of Cacao Swollen Shoot Virus with MARS Inc. through Trust Agreement #58-6631-6-123, titled: Genetic Improvement of
Theobroma cacao
, and from the Borlaug Fellowship Program, funded by the USDA-Foreign Agricultural Services with support from the World Cocoa Foundation.
Funding
Funding was provided by USDA-ARS through a Specific Cooperative Agreement, Project # 6038–21,000–023-07, supported in part by MARS, Inc. Trust Agreement #58–6631–6-123, and by the World Cocoa Foundation Foundation Borlaug Fellowship Program for KK and RA.
Availability of data and materials
The complete genome sequences generated during the current study are available in the NCBI GenBank repository, and they were assigned the Accession numbers KX592571- KX592584.
Ethics approval and consent to participate
Not applicable.
Consent for publication
The USDA-ARS review has been completed. No other consents are required.
Competing interests
The authors declare that they have no competing interests.
Publisher's Note
Springer Nature remains neutral with regard to jurisdictional claims in published maps and institutional affiliations.
Open Access
This article is distributed under the terms of the Creative Commons Attribution 4.0 International License (
http://​creativecommons.​org/​licenses/​by/​4.​0/​
), which permits unrestricted use, distribution, and reproduction in any medium, provided you give appropriate credit to the original author(s) and the source, provide a link to the Creative Commons license, and indicate if changes were made. The Creative Commons Public Domain Dedication waiver (
http://​creativecommons.​org/​publicdomain/​zero/​1.​0/​
) applies to the data made available in this article, unless otherwise stated.