01.12.2018 | Research article | Ausgabe 1/2018 Open Access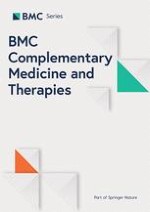 The protective effect of Er-Xian decoction against myocardial injury in menopausal rat model
Zeitschrift:
Autoren:

Zhiguo Zhang, Lihua Xiang, Lanping Zhao, Hong Jiao, Zhen Wang, Yubo Li, Yanjing Chen
Wichtige Hinweise
Electronic supplementary material
Abstract
Background
Er-Xian decoction (EXD), a formula of Chinese medicine, is often used to treat menopausal syndrome in China. The aim of the present study was to explore the potential cardioprotective mechanism of EXD against myocardial injury in an ovariectomy-induced menopausal rat model.
Methods
We divided the female Wistar rats into ovariectomy group and sham operation group (SHAM group). The ovariectomized (OVX) rats received treatment of vehicle (OVX group), EXD (EXD group) or 17β-estradiol (E2 group). After 12-week of treatment, the level of estradiol in serum was detected using an electrochemiluminescence immunoassay, and electrophysiologic changes in myocardial action potentials (AP) were evaluated using intracellular microelectrode technique. Changes in the histopathology of the left ventricle and the ultrastructure of the cardiomyocytes were observed by hematoxylin and eosin (HE) staining and transmission electronmicroscopy to assess myocardial injury. Microarrays were applied for the evaluation of gene expression profiles in ventricular muscle of the OVX and EXD rats. Further pathway analyses of the differential expression genes were carried out using the Kyoto Encyclopedia of Genes and Genomes (KEGG). And real-time quantitative RT-PCR (qRT-PCR) was used for verification of the key findings.
Results
The results from electrophysiological and histomorphological observations demonstrated that EXD had a substantial myocardial protective effect. The EXD-treated rats, in comparison with the OVX rats, demonstrated up-regulated expression of 28 genes yet down-regulated expression of 157 genes in the ventricular muscle. The qRT-PCR assay validated all selected differential expression genes. The KEGG pathway analysis showed that the down-regulated genes were relevant to cardiomyopathy and myocardial contractility. EXD could decrease the mRNA expressions of cardiac myosin (
Myh7
,
Myl2
) and integrin (
Itgb5
) in the ventricular myocardium.
Conclusion
EXD had a protective effect against myocardial injury in OVX rats, and this cardioprotective effect may be associated with modulation of the expression of cardiac myosin or integrin at the mRNA level.