12.05.2017 | Original Research Paper | Ausgabe 9/2017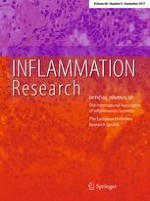 The
PTPN22

R263Q polymorphism confers protection against systemic lupus erythematosus and rheumatoid arthritis, while

PTPN22

R620W confers susceptibility to Graves' disease in a Mexican population
Zeitschrift:
Autoren:

Daniela Josabeth López-Cano, Daniel Cadena-Sandoval, Olga Beltrán-Ramírez, Rosa Elda Barbosa-Cobos, Fausto Sánchez-Muñoz, Luis Manuel Amezcua-Guerra, Yaneli Juárez-Vicuña, María Concepción Aguilera-Cartas, José Moreno, Jesús Bautista-Olvera, Guillermo Valencia-Pacheco, Ricardo F. López-Villanueva, Julian Ramírez-Bello
Wichtige Hinweise
Responsible Editor: John Di Battista.
Abstract
Objective
The functional
PTPN22
R620W polymorphism (rs2476601) is clearly associated with susceptibility to several autoimmune diseases (ADs). However, the
PTPN22
R263Q polymorphism (rs33996649) has been scarcely explored in different ADs. Here we aimed to examine the associations of the
PTPN22
R620W and R263Q polymorphisms with susceptibility to or protection against rheumatoid arthritis (RA), systemic lupus erythematosus (SLE), and Graves' disease (GD) among Mexican patients.
Methods
We conducted a case–control study including 876 patients (405 with SLE, 388 with RA, and 83 with GD) and 336 healthy control individuals.
PTPN22
genotypes were determined using the TaqMan 5′ allele discrimination assay.
Results
PTPN22
R620W was associated with GD susceptibility (OR 4.3,
p
= 0.004), but was not associated with SLE (OR 1.8,
p
= 0.19). We previously demonstrated that this polymorphism is associated with RA susceptibility (OR 4.17,
p
= 0.00036). Moreover,
PTPN22
R263Q was associated with protection against SLE (OR 0.09,
p
= 004) and RA (OR 0.28,
p
= 0.045), but was not associated with GD.
Conclusions
Our data provide the first demonstration that
PTPN22
R620W confers GD susceptibility among Latin-American patients. Moreover, this is the second report documenting the association of
PTPN22
R263Q with protection against SLE and RA.