01.12.2004 | Original article | Ausgabe 12/2004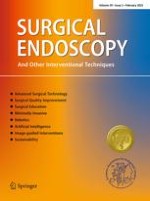 The quality of life of gastroesophageal reflux disease patients waiting for an antireflux operation
Zeitschrift:
Autoren:

T. Heikkinen, V. Koivukangas, H. Wiik, J. Saarnio, T. Rautio, K. Haukipuro
Abstract
Background
The purpose of this trial was to measure the health-related quality of life (HRQL) of gastroesophageal reflux disease (GERD) patients waiting for an antireflux operation.
Methods
A total of 120 patients waiting for a laparoscopic fundoplication were sent questionnaires measuring their symptoms and quality of life.
Results
Ninety-five of the patients still needing an operation returned the questionaires and were included in the analysis. Thirty-one of 84 patients (37%) felt that the symptoms had worsened, and 51/90 (57%) were unsatisfied. Thirty percent suffered from throat or airway infections, 25% from swallowing difficulties, 48% from retrosternal pain, and 18% had asthma. The mean GERD HRQL score (0–45) was 21.7 (95% confidence interval, 19.7–23.7). Short Form-36 scores of this population were significantly worse when compared to patients with inguinal hernia or moderate asthma.
Conclusions
Patients waiting for a fundoplication seem to have a significantly decreased health-related quality of life due to poor symptom control regardless of continuous medical treatment.