01.12.2017 | Original Article | Ausgabe 6/2017 Open Access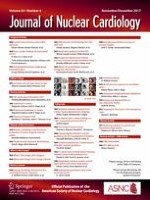 The radiation dose to overweighted patients undergoing myocardial perfusion SPECT can be significantly reduced: validation of a linear weight-adjusted activity administration protocol
Zeitschrift:
Autoren:

PhD Jenny Oddstig, PhD Cecilia Hindorf, MD Fredrik Hedeer, MD, PhD Jonas Jögi, MD, PhD Håkan Arheden, MD, PhD Magnus J. Hansson, MD, PhD Henrik Engblom
Wichtige Hinweise
Funding
This work was supported in part by research funding from Region of Scania, Swedish Heart-Lung Foundation, and Lund University Faculty of Medicine.
Abstract
Background
Large body size can cause a higher proportion of emitted photons being attenuated within the patient. Therefore, clinical myocardial perfusion SPECT (MPS) protocols often include unproportionally higher radioisotope activity to obese patients. The aim was to evaluate if a linear weight-adjusted low-dose protocol can be applied to obese patients and thereby decrease radiation exposure.
Methods and result
Two hundred patients (>110 kg, BMI 18-41, [
n
= 69], ≤ 110 kg, BMI 31-58, [
n
= 131]) underwent
99m
Tc-tetrofosmin stress examination on a Cadmium Zinc Telluride or a conventional gamma camera using new generations of reconstruction algorithm (Resolution Recovery). Patients <110 kg were administered 2.5 MBq/kg, patients between 110 and 120 kg received 430 MBq and patients >120 kg received 570 MBq according to clinical routine. Patients >110 kg had 130% total number of counts in the images compared to patients <110 kg. Recalculating the counts to correspond to an administered activity of 2.5 MBq/kg resulted in similar number of counts across the groups. Image analyses in a subgroup with images corresponding to high activity and 2.5 MBq/kg showed no difference in image quality or ischemia quantification.
Conclusion
Linear low-dose weight-adjusted protocol of 2.5 MBq/kg in MPS can be applied over a large weight span without loss of counts or image quality, resulting in a significant reduction in radiation exposure to obese patients.