Erschienen in: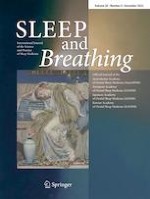 13.01.2022 | Sleep Breathing Physiology and Disorders • Original Article
The reduced contraction capacity of palatopharyngeal muscle in OSAHS is related to the decreased intra-cellular [Ca2+] mediated by low RyR1 and DHPRα1s expression
Erschienen in: Sleep and Breathing | Ausgabe 4/2022
Einloggen, um Zugang zu erhalten
Abstract
Purpose
To aim of the study was to explore the possible mechanisms for the decreased contraction capacity of the palatopharyngeal muscle in cases with obstructive sleep apnea hypopnea syndrome (OSAHS).
Methods
Palatopharyngeal muscle specimens from patients with OSAHS were taken as the case group. Palatopharyngeal muscle tissue by surgical removal of oropharyngeal malignant tumors was used as a control cohort. The palatopharyngeal muscle contraction capacity was measured by assessing diaphragm peak-twitching force / cross-sectional area (Pt/CSA), fatigue index (FI) twitch tension, and force per cross-sectional area (Force/CSA). Myofibril and sarcoplasmic reticulum (SR) ultra-structures were observed by electron microscopy. The intra-cellular calcium concentration was measured by fluorescence spectrophotometry. DHPRα1s and RyR1 expression profiles were probed through RT-qPCR and Western blot, and the colocalization of them was determined by immunofluorescence.
Results
In comparison with the control cohort, the OSAHS cohort demonstrated decreased Pt/CSA (
P
 < 0.01), FI twitch tension (
P
 < 0.01), together with contraction capacity (P < 0.01). This cohort also had lower intra-cellular [Ca
2+
] of palatopharyngeal muscle cells with abnormal ultrastructure of sarcoplasmic reticulum (SR) (
P
 < 0.01). In addition, transcriptomic (
P
 < 0.01) and proteomic expression (
P
 < 0.01) for RyR1 and DHPRα1s were markedly reduced within OSAHS cohort, although the degree of colocalization of them was not altered.
Conclusion
RyR1 and DHPRα1s downregulation may disrupt intra-cellular [Ca2+] homeostasis and subsequently decrease the palatopharyngeal muscle contraction capacity in patients with OSAHS, thus providing a novel insight into the pathogenesis of OSAHS.