15.07.2016 | Original Article—Liver, Pancreas, and Biliary Tract | Ausgabe 3/2017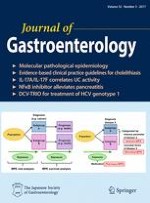 The relationship between HBcrAg and HBV reinfection in HBV related post-liver transplantation patients
Zeitschrift:
Autoren:

Ayako Urabe, Michio Imamura, Masataka Tsuge, Hiromi Kan, Hatsue Fujino, Takayuki Fukuhara, Keiichi Masaki, Tomoki Kobayashi, Atsushi Ono, Takashi Nakahara, Tomokazu Kawaoka, Akira Hiramatsu, Yoshiiku Kawakami, Hiroshi Aikata, Clair Nelson Hayes, Noboru Maki, Hideaki Ohdan, Kazuaki Chayama
Wichtige Hinweise
Electronic supplementary material
The online version of this article (doi:
10.​1007/​s00535-016-1240-y
) contains supplementary material, which is available to authorized users.
Abstract
Background
Post-transplant hepatitis B virus (HBV) reinfection is one of the major problems facing patients who undergo HBV-related liver transplantation (LT). We analyzed the clinical impact of serum hepatitis B core-related antigen (HBcrAg) on HBV reinfection in post-LT patients with HBV-related liver diseases.
Methods
Serum hepatitis B surface antigen (HBsAg), HBV DNA, and HBcrAg were measured over time in 32 post-LT patients. Twenty-one out of 32 patients had HCC at LT. The effects of HBcrAg, hepatocellular carcinoma (HCC) recurrence, and HBs gene mutation on HBV reinfection and withdrawal from hepatitis B immune globulin (HBIG) were analyzed.
Results
Sixteen out of 32 patients (50 %) were positive for HBcrAg even though only six patients were thought to have experienced HBV reinfection based on reappearance of either HBV DNA or HBsAg during a median follow-up time of 75 months. Three of these six patients who became re-infected with HBV experienced HCC recurrence after LT. The HBV DNA reappearance rate was significantly higher in patients with HCC recurrence after LT (
p
< 0.001). Two HBV re-infected patients without HCC recurrence had HBs gene mutations G145R and G145A, respectively. Anti-HBs antibody development rate by HB vaccination was similar between HBcrAg-positive and negative patients (
p
= 0.325).
Conclusions
HBV reinfection is more common than is usually considered based on conventional measurement of HBsAg and HBV DNA. HCC recurrence and mutations in the HBV S gene were associated with HBV reinfection after LT.