01.12.2015 | Research article | Ausgabe 1/2015 Open Access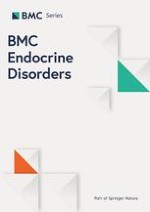 The relationship between N-terminal prosomatostatin, all-cause and cardiovascular mortality in patients with type 2 diabetes mellitus (ZODIAC-35)
Zeitschrift:
Autoren:

Peter R van Dijk, Gijs WD Landman, Larissa van Essen, Joachim Struck, Klaas H Groenier, Henk JG Bilo, Stephan JL Bakker, Nanne Kleefstra
Wichtige Hinweise
Competing interests
S.J.L.B. received support from the Netherlands Heart Foundation, Dutch Diabetes Research Foundation, and Dutch Kidney Foundation, together participating in the framework of the Center for Translational Molecular Medicine (project PREDICCt (Grant 01C-104-07).
J.S. was previously employed by B.R.A.H.M.S, a company that manufactures and holds patent rights on the NT-proSST assay.
PRvD, GWDL, LvE, KHG, HJGB, NK reported that they have no potential conflicts of interest relevant to this article.
Authors' contributions
PRvD is the guarantor of this work and, as such, had full access to all the data in the study and takes responsibility for the integrity of the data and the accuracy of the data analysis. PRvD: Statistical analysis, writing manuscript. GWDL: Statistical analysis, writing and critically reviewing manuscript. LvE: Critically reviewing manuscript. JS: Analysis of samples, critically reviewing manuscript. KG: Statistical analysis, critically reviewing manuscript. HJGB: Design, critically reviewing manuscript. SJLB: Design, critically reviewing manuscript. NK: Design, critically reviewing manuscript. All authors read and approved the final manuscript.
Authors' information
Joachim Struck, Currently: Sphingotec GmbH, Hennigsdorf, Germany. At the time of analysis: Thermo Fisher, Hennigsdorf, Germany.
Abstract
Background
The hormone somatostatin inhibits growth hormone release from the pituitary gland and is theoretically linked to diabetes and diabetes related complications. This study aimed to investigate the relationship between levels of the stable somatostatin precursor, N-terminal prosomatostatin (NT-proSST), with mortality in type 2 diabetes (T2DM) patients.
Methods
In 1,326 T2DM outpatients, participating in this ZODIAC prospective cohort study, Cox proportional hazards models were used to investigate the independent relationship between plasma NT-proSST concentrations with all-cause and cardiovascular mortality.
Results
Median concentration of NT-proSST was 592 [IQR 450–783] pmol/L. During follow-up for 6 [3–10] years, 413 (31%) patients died, of which 176 deaths (43%) were attributable to cardiovascular causes. The age and sex adjusted hazard ratios (HRs) for all-cause and cardiovascular mortality were 1.48 (95%CI 1.14 - 1.93) and 2.21 (95%CI 1.49 - 3.28). However, after further adjustment for cardiovascular risk factors there was no independent association of log NT-proSST with mortality, which was almost entirely attributable to adjustment for serum creatinine. There were no significant differences in Harrell's C statistics to predict mortality for the models with and without NT-proSST: both 0.79 (95%CI 0.77 – 0.82) and 0.81 (95%CI 0.77 – 0.84).
Conclusions
NT-proSST is unsuitable as a biomarker for cardiovascular and all-cause mortality in stable outpatients with T2DM.